The NHS Diabetic Eye Screening Programme is again joining forces with the Royal Society of Medicine (RSM) in April to hold the fifth national diabetic eye screening conference.
Screening helps prevent sight loss in people with diabetes by detecting diabetic retinopathy early, when treatment is effective at reducing or preventing damage from the condition. The national conference will provide an essential update to what's happening in diabetic eye screening in 2018.
The conference is aimed at anyone involved in providing diabetic eye screening: programme managers, clinical leads, optometrists, screeners, graders, GPs, diabetologists, paediatricians, ophthalmologists, public health professionals, quality assurance professionals and commissioners.
So put the date in your diary now: Friday 20 April.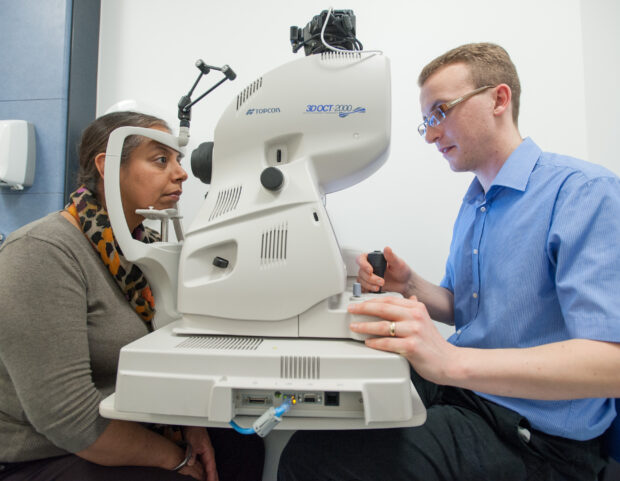 Speakers announced
Professor David Owens, consultant diabetologist and professor at Swansea University, will give the keynote speech entitled 'Does diabetic eye screening actually work?'.
Other speakers will include Professor Wong Tien Yin, medical director of the Singapore National Eye Centre, who will discuss whether you can predict stroke and cardiac risk from retinal vessels and a team from East London Textile Arts who will give an intriguing presentation titled 'Embroidering the truth'.
The theme of this year's conference is 'Making a difference'. Speakers from the national programme will provide insights into recent changes and those planned for the future, giving important updates for best practice .
How to register
You can find out more and register now by visiting the RSM website. Fees vary for members and non-members. Registration closes on Friday 13 April.
This year we are again providing 10 funded places for any active graders and/or screeners working within diabetic eye screening. To apply for a funded place please complete the application via this survey link.
Please note travel expenses are not included within these funded places. Successful applicants will be informed by Monday, 19 March, if they have been awarded a place.
PHE Screening blog
PHE Screening BLOG articles provide up to date news from all NHS screening programmes. You can register to receive updates direct to your inbox, so there's no need to keep checking for new blog articles.