Clinical skills trainers (CSTs) are integral to the provision of abdominal aortic aneurysm (AAA) screening.
There is often only one CST per programme, who may be shared with another department. As local AAA screening providers, we face a challenge to make sure we maintain sufficient CST capacity.
National CST specific day
The national NHS AAA Screening Programme is organising a CST specific day:
Date: 2 March 2018
Venue: The Wesley Euston Hotel and Conference Centre, 81-103 Euston St, Kings Cross, London NW1 2EZ
Time: 10.30am to 3.30pm
Please ensure CSTs are aware of this event so that they save the date. A formal invitation to local programmes will follow.
Service delivery
The CST is responsible for:
mentoring and assessing trainee AAA screening technicians
workplace assessment of technicians
providing local continuing professional development (CPD) and support
internal quality assurance (QA) of ultrasound scan images
routine QA and maintenance of equipment
running screening clinics to maintain skills and see trickier cases
remaining up to date with national policies, guidance and procedures
undertaking the Certificate of Assessing Vocational Achievement (CAVA) qualification if required
In other words, the CST is pivotal to making sure screening staff are competent to perform scans. So they're fairly important then!
Professional experience and role
CSTs can be senior sonographers or vascular scientists with 2 years' clinical experience and they must have completed the relevant NHS AAA Screening Programme mandatory training for CSTs.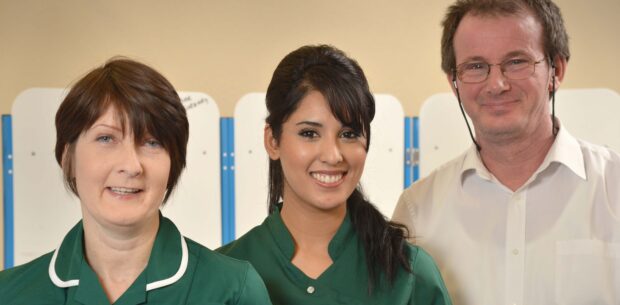 The introduction of the level 3 diploma for health screeners has meant major changes to the way trainees are mentored and assessed. At least one CST per programme is expected to obtain the CAVA qualification in order to support trainee technicians.
The level 3 diploma for health screeners
Training new screening technicians ensures that a highly qualified workforce provides high quality screening. It involves:
attending AAA clinics
giving trainees tuition in ultrasound physics, equipment controls, using the SMaRT IT system to store data, correct consenting for patients, using image transfer system, scan technique and ensuring they are familiar with relevant national guidance
The national clinical training log book and assessment record for trainee technicians undertaking the diploma states:
Only a CST who has undergone the required national training can 'sign off' the scans within the clinical log book and undertake the 3 clinical assessments. All of the required scans and assessments must be performed using the portable ultrasound machines that local programmes use within the screening programme.
With annual leave accounted for, you might have a CST for around 23 days in a year, or 46 half days. It can therefore be a challenge to increase capacity to train a new technician alongside the CST's other duties.
Different approaches
Approaches to rising to this challenge include:
Using CSTs who do not have the CAVA to support the training of screening technicians. Not all CSTs need to undertake the CAVA qualification and training is available online to support the process.
Secondment from another department.
Using other staff who are not CSTs but have the CAVA qualification to coordinate the diploma.
Using other staff members as expert witnesses, including screening technicians, vascular nurses and programme managers. Further information is available here.
Locally, in the South Devon and Exeter programme we reallocate tasks that could be undertaken by others.
Having completed my CAVA training I am supporting a screening technician to obtain their CAVA and they will be able to support a trainee through the generic units of the diploma. This will leave me to devote my time to the AAA knowledge and skills units. I am grateful to qualification provider Pearsons for its mentoring in this.
Regional CST networking
We are also arranging meetings in our region to support each other to develop standardised ways of working. This means if one programme suddenly has an issue with CST capacity then it can liaise with its neighbours for practical support until it has the situation covered.
Another approach might be developing CST consortia that cover an area wider than just a single programme. Having fewer staff overseeing training more regularly would alleviate pressure on lots of individuals to obtain the CAVA and remain current in practice.
It would also give the ability to flex to meet changing demand in a region. Your own CST could be an expert witness providing day-to-day support while you use a neighbour's CST for CAVA-related support.
PHE Screening blogs
PHE Screening BLOGs provide up to date news from all NHS screening programmes. You can register to receive updates direct to your inbox, so there's no need to keep checking for new blogs.