We want the people we invite to screening to make an informed decision about whether to take part, based on the best available information, their own values and views.
We need to give people enough clear and concise information to weigh up their options. But the messages about the potential benefits and risks of screening are not always simple.
Usually we think about benefits and risks purely in terms of physical health. For example:
abdominal aortic aneurysm (AAA) screening can help detect aneurysms before they burst so they can be treated effectively (a benefit)
there is a small risk of complications or death from surgery to repair aneurysms detected by screening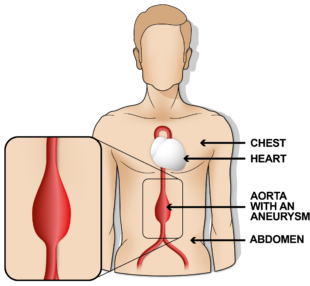 However, we should also think about the potential psychological benefits and risks of taking part in screening.
AAA screening reduces AAA-related deaths by detecting aneurysms early when they can be monitored and treated effectively.
Men who have a small (3.0 to 4.4cm diameter) or medium (4.5 to 5.4cm) aneurysm detected by screening are monitored regularly by the screening programme's surveillance arm.
There is also a proposal to expand the surveillance arm to include men with an aortic diameter just below 3cm at 65 years (2.6 to 2.9cm).
However, little is known about the effects on a man's quality of life of knowing he has an aneurysm that might eventually grow to a dangerous size that requires treatment. Anecdotally we know this knowledge can cause anxiety and upset for some men.
The NHS AAA Screening Programme is therefore seeking partners to help design and conduct research to answer this question. Quality of life data for the research will be gathered from data held on the national programme's AAA SMaRT IT solution.
How to apply to be a research partner
If you would like to help, please email an expression of interest to me at jonothan.earnshaw@nhs.net before 30 September 2017.
Expressions of interest should:
include the proposed methodology
include an analysis of which quality of life measures should be included in the evaluation
be no more than two sides of A4
A small group, headed by the chair of the NHS AAA Screening Programme's Research Committee, will decide which proposals will go forward to the committee's full proposal stage.
PHE Screening blog
PHE Screening BLOG articles provide up to date news from all NHS screening programmes.
You can register to receive updates direct to your inbox, so there's no need to keep checking for new blog articles.