The NHS Newborn Hearing Screening Programme (NHSP)  helps identify babies who have permanent hearing loss as early as possible. These babies and their families can then get the support and advice they need right from the start.
It is important we only refer those babies who need further assessment through to a hearing specialist audiology. By doing this, we reduce the workload in busy audiology departments as well as anxiety among parents.
In Leicester, we screen around 10,500 babies every year. In 2014, like many NHSP sites, we noticed an increase in referrals from our screening programme for audiological assessment.
In the 2013 to 2014 financial year, the rate reached 3.56%. This is a figure which exceeds the programme standard for a hospital setting. Further data analysis in August 2014 confirmed this upward trend was continuing.
The standard says programmes should refer no more than 3% of the 'well-baby' population to a hearing specialist in audiology.
Factors considered
We decided to look at several factors which might be affecting our referral rate. These included:
the babies' age at time of screening – we have a high early discharge rate but this has been the case for several years
our screening staff – we have had the same screening staff for some years
equipment – we have not changed our equipment
These factors didn't appear to be responsible for the increase, so we decided to proceed on the assumption that there may have been a slow erosion of performance over the years.
We raised this matter with the screening team and decided to introduce a new quality improvement initiative. We called this 'Back to basics'.
Actions: getting back to basics
We held a meeting with the screening team dedicated to the issue and presented data so they understood the situation.
The meeting highlighted the impact of the referral rate:
on parents – high referral rates cause increased concern and worry and a further visit to the hospital for the audiology assessment
on audiology – high referral rates mean an increased wait for babies to be seen in audiology
on the baby – high referral rates mean babies who have satisfactory hearing are having more tests and babies who have a confirmed hearing loss are having to wait longer for audiology to assess them
We discussed the importance of optimising screening conditions and concentrating on basic issues with the team. This included ensuring:
the baby is settled
the test environment is as quiet as possible
electrical interference was minimised (where appropriate)
a good earpiece fit for automated otoacoustic emission (OAE) tests
good skin preparation for automated auditory brainstem response (AABR)
the appropriate use of pause function during testing
By looking at the screening outcome rates for each member of the screening team we were able to help target their training needs.
We also asked staff to complete the NHSP annual update of e-learning and annual screening assessment and produced some simple reminders.
Simple reminders for hearing screeners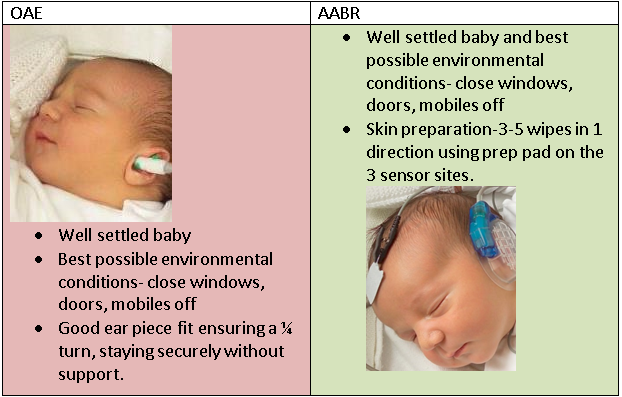 Outcomes
Our 'back to basics' initiative started in the last quarter of 2014 to 2015.
We were delighted to see that there was no further increase and that from the first quarter of 2015 to 2016 the rate started to fall. Our current referral rate is 2.3%.
The team responded to the challenge in a very positive way and we are very pleased with the outcome of our service improvement and continue to monitor it closely.
Simply going back to basics and revisiting the techniques used by all hearing screeners can really help. We would encourage other NHSP programmes to think about doing something similar.
PHE Screening blogs
PHE Screening BLOGs provide up to date news from all NHS screening programmes.
You can register to receive updates direct to your inbox, so there's no need to keep checking for new blogs.