More than 100 abdominal aortic aneurysm (AAA) screening professionals attended this year's national AAA screening networking event.
The highlight of the day saw NHS AAA Screening Programme clinical lead Jonothan Earnshaw present his third prestigious Hunterian Lecture, entitled 'Aortic aneurysm screening from evidence, through implementation to optimisation'.
Each year, the Royal College of Surgeons (RCS) honours around 6 to 8 surgeons with a Hunterian Lecture in recognition of their commitment to progress in their respective fields. Hunterian lectures, named after John Hunter, probably the most famous surgeon ever in England, are sponsored by the RCS and introduced by a member of the RCS Council.
Professor Cliff Shearman introduced Jonothan and the audience also welcomed retired surgeon Brian Heather, one of the original pioneers of AAA screening.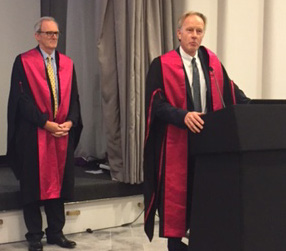 Delegates included local AAA screening service co-ordinators, directors, clinical skills trainers, vascular scientists, screening technicians and vascular nurses as well as screening quality assurance service (SQAS) regional team staff and public health commissioners.
The main focus of the event was to update delegates on the 4 UK nations' initiative to develop an online AAA screening inequalities toolkit to help local providers improve equality of access to and uptake of screening. Linda Syson-Nibbs, Head of Quality Assurance (Midlands and East), introduced the session with a summary of the national screening inequalities strategy.
National data manager Jo Jacomelli led an interactive session on inequalities data reports that are being piloted.
It was clear that more training is needed to help users understand the reporting mechanisms. As a result, we have started work on developing multi-media e-learning content that will include case studies from local providers. So watch this space!
There was a thought-provoking session around the possible endorsement of screening invitation letters by GPs.
It was agreed that we would take the variety of options discussed to the programme advisory group and talk in more detail about them to identity benefits and challenges before raising them with the programme research group.
Also included on the day were national updates from Jonothan, myself and Morag Armer, SQAS AAA Portfolio Lead, who spoke on emerging QA themes in AAA screening.
Carol Harrison, from Northgate Public Services, supplier of the national AAA SMaRT IT system, gave an update on issues received by the AAA SMaRT helpdesk, Professor Matt Bown gave a presentation on genetic links to AAA disease and Michael Sweeting, from the Department of Public Health and Primary Care at the University of Cambridge, spoke about 'Should we screen women for AAA?'
Feedback from the event was extremely positive and useful and will help with our planning for the next national networking event in June 2018. A huge thank you to those who attended and contributed to our most successful event yet.
You can view the presentations from the day below.
PHE Screening blogs
PHE Screening BLOGs provide up to date news from all NHS screening programmes – replacing our previously published newsletters.
You can register to receive updates direct to your inbox, so there's no need to keep checking for new blogs.