The first NHS Diabetic Eye Screening Programme national networking day enabled people from across the world of diabetic eye screening to network with colleagues and get operational updates from the national programme team.
The morning session included updates from:
national programme manager Patrick Rankin
national grading lead Shelley Widdowson
national IT lead Andrea Hewins
senior implementation lead John Fox
Sue Cobbold and Madeleine Johnson from the screening quality assurance service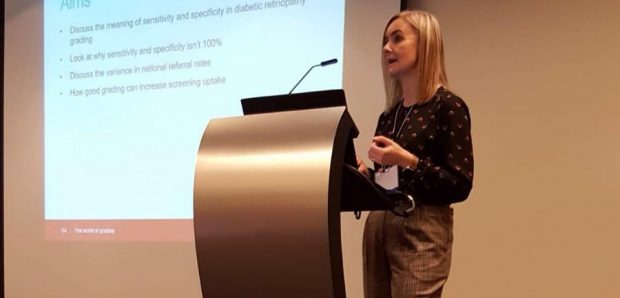 The afternoon session began with Dr Sadhana Kulkarni and Tinu Fakoya from the local West Hertfordshire screening programme. They presented a very entertaining overview of a play they wrote, produced and acted in that outlines the journey of a character called Tintin who refuses to connect with his diabetes care.
The play was broadcast in the conference hall over lunch and the video is available to watch on YouTube.
National programme clinical lead Professor Peter Scanlon then provided a fascinating insight into the past, present and future of diabetic eye screening, with some exciting potential changes to come in the future.
Luke Rollin, screening and immunisation coordinator from South Yorkshire, gave the final talk of the day.  He explained what screening and immunisation coordinators do and how they help local programmes deliver diabetic eye screening.
Feedback from the event has been excellent, with the exception of some interruptions due to building work next door!
We are planning to run another such event around the same time next year.
Save the date
Don't forget to save the date of Friday 20 April 2018 for the annual Royal Society of Medicine/NHS Diabetic Eye Screening Programme conference.
PHE Screening blogs
PHE Screening BLOGs provide up to date news from all NHS screening programmes. You can register to receive updates direct to your inbox, so there's no need to keep checking for new blogs.