There are systems in the NHS newborn screening programmes that help to identify babies who have missed screening so that prompt action can be taken.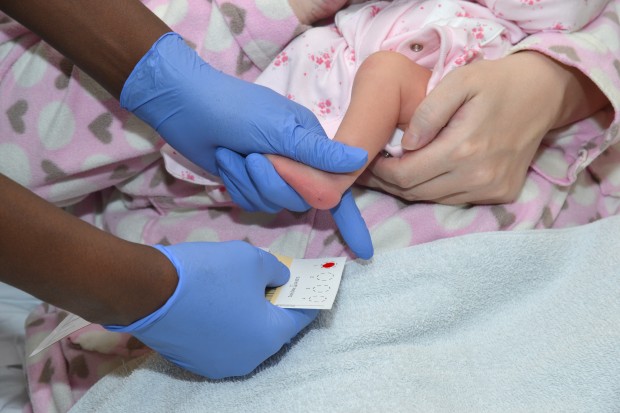 Sometimes babies are missed from screening because of failed discharge notifications and admission into paediatric care. The good news is that the Newborn Blood Spot Failsafe Solution (NBSFS) is helping to find babies that may have missed newborn blood spot (NBS) screening. By introducing NBSFS into some paediatric hospitals as planned, the number of these cases, and their impact, will further reduce.
The NBSFS has a user group which meets quarterly to monitor the quality of the service and contribute to its developments.
This group recently worked on:
developing training videos
producing reports for the site leads and SQAS regions to monitor NBSFS usage
guidance on the use of the NBSFS for NBS screening labs and maternity and child health users in the form of operational level agreements (OLAs)
improving notification when a baby dies
The user group is currently focusing on:
improving communication with the IT system's helpdesk
further developing reports that can be generated from NBSFS such as for some KPI data
improving data quality on the NBSFS
developing a new upgrade for the NBSFS
Working with the user group, the NHS Newborn Blood Spot Screening Programme has developed a new upgrade to the web-based programme, which is due to go live at the end of this month. The upgraded software will:
allow selected paediatric hospitals to access NBSFS
display the date and time that the maternity unit's associated laboratory last uploaded data on the tracking page
clarify some processes, including updating a deceased baby record and accepting/rejecting a transferred record
display sample 'collection date' and 'received date' for sample cards
display user contact details in the 'notes', for easier communications
allow users to select the number of records displayed on the tracking page results
check/validate the collection date of sample cards against existing samples cards
We'll be blogging again very soon about how correct data entry is vital to the NBSFS, so please keep your eyes peeled for the next instalment.
In the meantime, you can contact the user group to make comments and suggestions by using the NBSFS feedback form. We would especially like to hear from you if you have used the NBSFS training videos and can offer some feedback.
PHE Screening blogs

PHE Screening blogs provide up to date news from all NHS screening programmes – replacing our previously published newsletters.
You can register to receive updates direct to your inbox, so there's no need to keep checking for new blogs.