As regional head of the Screening Quality Assurance Service (SQAS) in London, I was delighted to host around 45 delegates at the capital's first abdominal aortic aneurysm (AAA) screening networking and learning event on 27 November 2015.

Delegates included screening technicians, vascular nurse specialists, co-ordinators/programme managers, commissioners and SQAS staff. Thank you to all participants for a very successful event.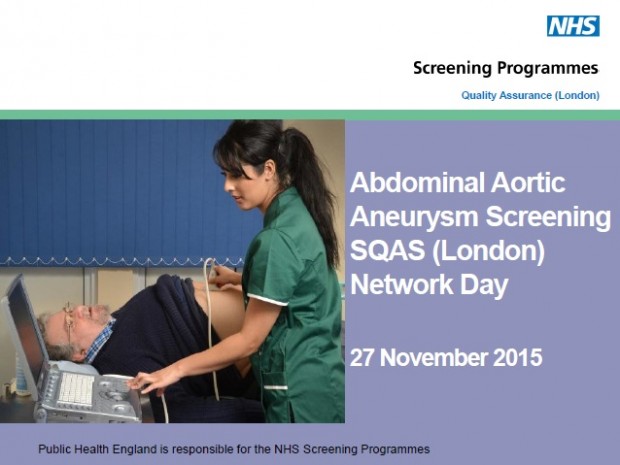 Our objectives for the day were:
to support London AAA programmes in providing safe and effective screening
to provide a forum for sharing knowledge and good practice
We started the day by highlighting the positive impact of AAA screening, its successes and challenges.
Screening should reduce premature deaths from ruptured aneurysms among men aged 65 and over by up to 50%. Since the start of national implementation in 2009, the programme has screened more than 1 million 65-year-old men, detected more than 11,000 aneurysms and referred more than 2,500 men with large aneurysms for treatment.
However, the programme faces a number of challenges, including:
ensuring timely surgical treatment of men with large aneurysms
variation in screening uptake linked to social deprivation
low retention of screening technician staff (London only)
Presentations from the networking event can be downloaded here:
Jan Yates - Overview presentation (AAA London Network Event 27 Nov 2015 - Jan Yates Overview Presentation)
Shelagh Murray - Vascular nurse specialist role presentation (AAA London Network Event 27 Nov 2015 - Shelagh Murray Vascular Nurse Specialist Role Presentation)
Prabhjot Batth - Health promotion specialist presentation  (AAA London Network Event 27 Nov 2015 - Prabhjot Batth Health Promotion Specialist Presentation)
Patrick Rankin - Education and training update abridged presentation (AAA London Network Event 27 Nov 2015 - Patrick Rankin Education and Training Update abridged Prsentation)
Louise Wilkinson - Clinical audit presentation (AAA London Network Event 27 Nov 2015 - Louise Wilkinson Clinical Audit Presentation)
Topics covered included:
Training update
National training and education manager Patrick Rankin summarised the national AAA screening training requirements and explained the new screener qualification that will be developed in 2016. This will provide a level 3 qualification, so that non-professionally regulated screening staff will have a national recognised qualification, greater opportunities and better career progression.
Standardised reporting
AAA screening providers have to provide regular performance data to stakeholders including commissioners and their governance boards. The national programme will launch updated pathway standards and additional key performance indicators in 2016. Delegates agreed that more standardised reporting would help commissioners, the national programme and regional SQAS teams to support local providers in ensuring pathway standards are met and quality maintained.
The day ended on a high note with delegates expressing an interest to attend similar events in the future. Overall, delegates said the organisation and delivery of the event was very good and comments included:
Felt that the day worked well. It was a good opportunity for all programmes and disciplines in the programme to meet and discuss. Well worth doing again.
Good opportunity to share ideas and experiences.
Very useful day.
PHE Screening blog
The PHE Screening blog provides up to date news from all NHS screening programmes – replacing our previously published newsletters. You can register to receive updates direct to your inbox, so there's no need to keep checking for new blogs.