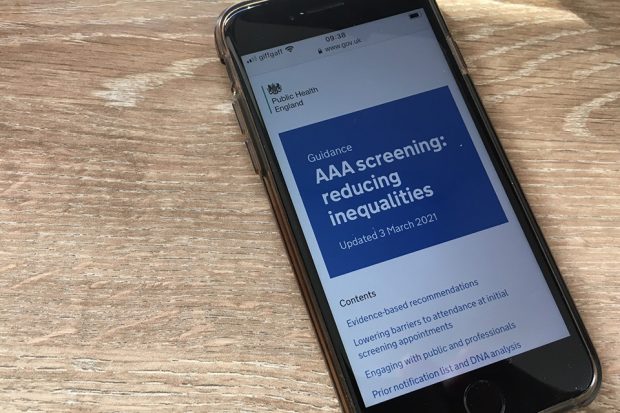 Three years ago, PHE published guidance on GOV.UK on reducing inequalities in NHS abdominal aortic aneurysm (AAA) screening.
We have now updated this resource that supports NHS AAA screening providers in identifying and reducing inequalities. The guidance includes evidence-based guidance and information. It also acts as a platform for providers to share and submit examples of initiatives aimed at reducing barriers to screening.
Last year, we asked providers, commissioners and other stakeholders to complete a short survey on the usefulness and effectiveness of the resource. We have taken that feedback into account in updating the publication.
What has changed
Since the AAA inequalities guidance was first published, we have built up a suite of national guidance addressing inequalities across all the NHS screening programmes, including:
The updated AAA publication signposts to all the above guidance and explains how AAA screening providers should use the PHE screening HEA guidance in conjunction with the generic PHE Health Equity Audit Tool to:
identify health inequalities for the eligible cohort
assess health inequalities in relation to the screening service
identify actions to take to help reduce those inequalities
It also explains how providers can use the data report within the AAA SMaRT IT system to interpret data on measures such as completeness of offer, coverage and uptake of initial screening by deprivation group and geographical area.
Keeping up the momentum
We hope providers and commissioners will continue to use the national AAA screening inequalities guidance to help reduce barriers to AAA screening attendance.
We aim to continually improve the guidance by sharing learning from initiatives that address inequalities. If you have done some work locally to reduce barriers to AAA screening attendance and would like to share it, then please contact us by emailing: PHE.YPAScreening@nhs.net.
PHE Screening blog
The PHE Screening blog provides up to date news from all NHS screening programmes. You can register to receive updates direct to your inbox, so there's no need to keep checking for new blogs. If you have any questions about this blog article, or about population screening in England, please contact the PHE screening helpdesk.