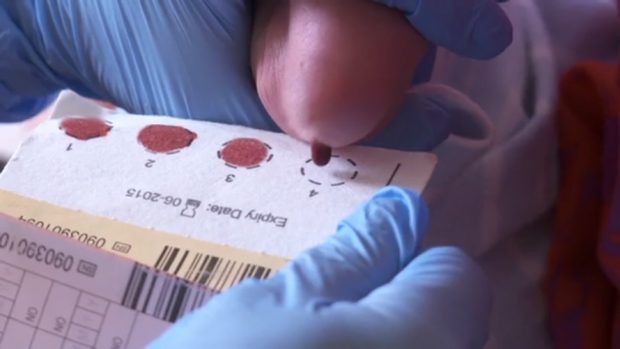 The NHS newborn blood spot (NBS) screening programme team has been working hard to update the suite of congenital hypothyroidism (CHT) screening resources.
The team has worked closely with parents, clinicians and laboratory staff to ensure the new resources provide up-to-date screening guidance that is clear and easy to understand. All of the new resources have been published in HTML format to bring them in line with new accessibility requirements.
The following CHT resources have been updated and published:
Patient information
There are two patient information resources for CHT screening.
CHT suspected
This publication provides parents with a brief overview of CHT and what they can expect following a 'CHT suspected' screening result. We have kept it short as we understand that parents are likely to feel very anxious at this stage, so may not want to be overloaded with too much information.
CHT further information
This version provides more detailed information for parents . This information is intended to help support parents following a 'CHT confirmed' screening result.
Printing patient information
A small number of people cannot access digital information. To ensure these people receive the information they need, local services should print out a copy of the appropriate digital HTML leaflet(s).
Laboratory handbook
The CHT laboratory handbook provides detailed information and guidelines to support newborn screening laboratories. The new version contains updated guidance, including the CHT screening protocol and new flowcharts to help explain important screening processes. It has been cut down in length so it now provides clearer, more concise information, and the new HTML format makes it much easier to navigate.
Initial clinical referral guidelines
The new CHT initial clinical referral guidelines set out a clear pathway to support clinicians with the management of babies following a CHT screen positive result. These new guidelines should help to ensure that all affected babies are offered the same high-quality standard of care.
Feedback and further updates
Please send any queries, suggestions or feedback about these updated resources to the PHE Screening helpdesk.
We are in the process of updating many of our other screening resources, and will keep you updated you via this blog, so watch this space.
PHE Screening blog
The PHE Screening blog provides up to date news from all NHS screening programmes. You can register to receive updates direct to your inbox, so there's no need to keep checking for new blogs. If you have any questions about this blog article, or about population screening in England, please contact the PHE screening helpdesk.