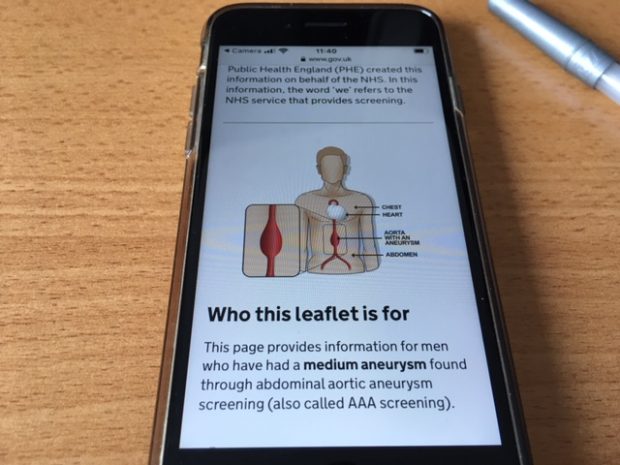 We blogged earlier this month about NHS AAA screening follow-up information moving from print to digital.
Local AAA services should now:
direct people by default to the digital versions of the small, medium and large aneurysm result leaflets
use up their existing supplies of printed copies of these 3 leaflets for men who cannot access digital information
Services that run out of these 3 leaflets can continue to order printed copies from national print provider APS Ltd until national stocks run out. Please order only one pack at a time so that remaining resources are spread out evenly between local services.
Support and next steps for local AAA services
We have developed a new A4 poster for local AAA screening services to print out and display.
The poster, pictured below, includes:
QR codes and web links that signpost people to the digital versions of the leaflets
guidance on saving these digital leaflets to smartphone home screens
Local AAA services can laminate and display this poster at AAA screening and referral clinics to help signpost men to the digital information relevant for them.
There will be a small national print run of this poster so that each local AAA screening service can order a limited number from national print provider APS Ltd. We will inform local services by national email message when these become available.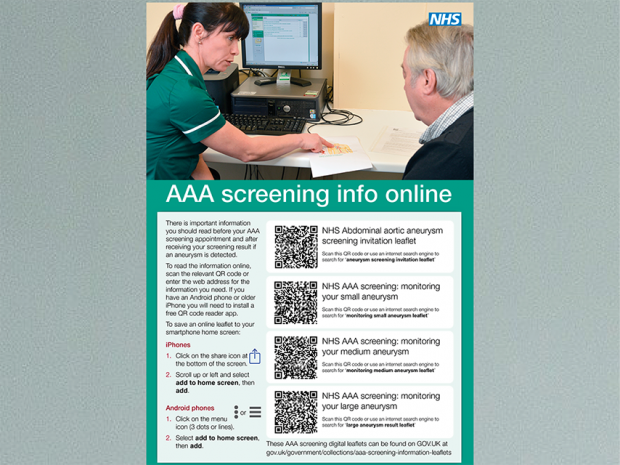 Once all printed stocks of the 3 AAA screening positive test result leaflets have run out, local providers will still need to make sure men who are not online receive the information they need. They should do this by printing off the relevant digital HTML leaflet by:
going to the page with the information you want to print
pressing Ctrl+P or Cmd+P to get to the print option
considering customising the pages to miss out the list of contents and the open government licence information
selecting any appropriate options, such as double-sided printing
pressing print
Any hyperlinks in the HTML document will be written out in full in the printout.
Can you help us?
We are keen to make the transition from printed to digital information as smooth as possible.
Please contact the helpdesk if you would like to work with us on user research to optimise our support for local AAA screening services.
PHE Screening blogs
PHE Screening blogs provide up to date news from all NHS screening programmes. You can register to receive updates direct to your inbox, so there's no need to keep checking for new blogs. If you have any questions about this blog article, or about population screening in England, please contact the PHE screening helpdesk.