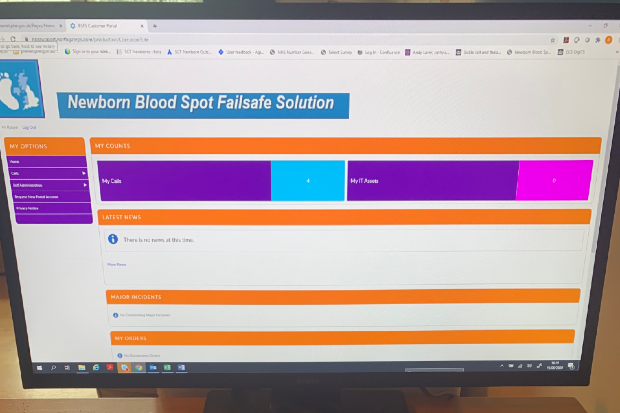 Around 3,000 calls are logged every month with the NHS Newborn Blood Spot Screening Programme's newborn blood spot failsafe solution (NBSFS) helpdesk, mostly by email and phone.
Using the online vFire customer portal is a convenient way for NBSFS users to log and track their calls.
Benefits of using the portal
The portal is easy to use and you can access it at any time, so there's no need to wait for phone lines to be open during working hours.
Users can:
log in to review and manage their queries and any major system issues reported
track call progress and local managers can also review calls logged by their teams
Using the portal helps us to improve services. It allows helpdesk staff to:
prioritise customer queries and issues by urgency and direct queries to appropriate support teams more efficiently
track the volume and types of issues and requests so we can identify and address wider problems and trends
NBSFS user group representatives tested the portal. They liked its extra benefits and found it easy to use.
Accessing the portal
The portal is available to all NBSFS users and works on all current internet browsers. The vFire customer portal quick reference guide and full user guide documents are available in the guides section of the resources page on the NBSFS.  These documents detail everything you need to know about accessing and using the system.
To gain access to the portal you will first need to generate a password using the forgotten password link and entering your email address when prompted.
Using the helpdesk
NBSFS users should log queries using the customer portal where possible. We understand users would prefer to discuss some queries and you will still be able to contact the NBSFS helpdesk by email or by phone on 0845 070 2778.
PHE Screening blog
The PHE Screening blog provides up to date news from all NHS screening programmes. You can register to receive updates direct to your inbox, so there's no need to keep checking for new blogs. If you have any questions about this blog article, or about population screening in England, please contact the PHE screening helpdesk.