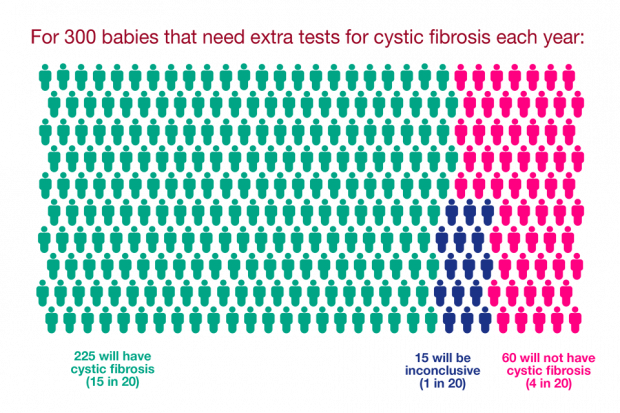 Many of you will know that Public Health England (PHE) is in the process of converting NHS screening information leaflets into digital HTML format in line with the government's 'digital by default' policy.
With expert input from clinicians and parents, the national programme team for the newborn blood spot screening programme has updated the PHE Screening information for parents of babies suspected of having cystic fibrosis (CF).
This updated resource is published in HTML format only, can be viewed on any device and meets government accessibility regulations.
NHS-led newborn screening services are advised to direct parents to this online information if the result of a baby's newborn blood spot test is 'CF suspected'.
We've done our best to use simple language throughout and have included a new infographic illustration, see top of this blog post, that helps explain the chances of a cystic fibrosis suspected screening result being followed by a conclusive diagnosis.
Parents and families who are directed to this online leaflet may feel anxious following a 'CF suspected' screening result. We have therefore also included links to the Cystic Fibrosis Trust website where there is much more information and support about diagnosis and living with CF.
PHE will be publishing many more information screening resources for the public in HTML format over the coming few months, so watch this space.
PHE Screening blog
The PHE Screening blog provides up to date news from all NHS screening programmes. You can register to receive updates direct to your inbox, so there's no need to keep checking for new blogs. If you have any questions about this blog article, or about population screening in England, please contact the PHE screening helpdesk.