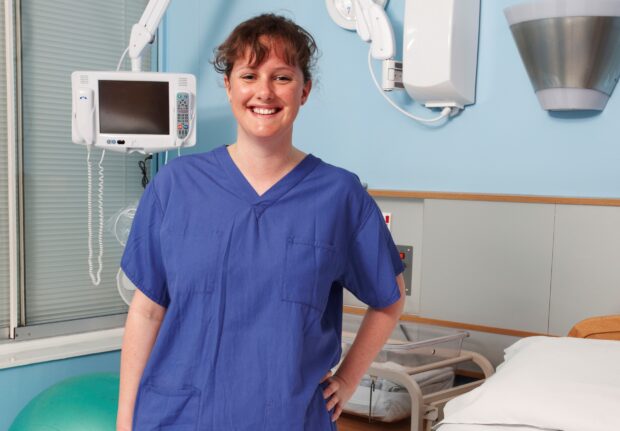 For those of you who are just starting your midwifery degrees, we want to help by pointing you in the direction of useful information about screening.
Population screening
Population screening is the process of identifying healthy people who may have an increased chance of a disease or condition. There are 3 antenatal screening programmes and 3 newborn screening programmes, between them covering more than 20 health conditions.
Public Health England (PHE) used to produce a hard copy NHS antenatal and newborn screening resource pack, which we sent to midwifery tutors to hand out to new students.
But printed materials quickly go out of date, so we have made the content from the packs freely available online. This article signposts you to our education resources which can support your learning.
Information for pregnant women
Find out what information pregnant women are given about antenatal and newborn screening by reading our Screening tests for you and you baby leaflet and watching our short animation, below.
e-Learning
Visit e-Learning for Healthcare (e-LfH) for our full suite of free online training courses.

These include our Introduction to population screening e-learning module and a number of modules on antenatal and newborn screening.
All our e-learning modules are engaging and interactive, using animations, videos and quizzes to bring learning to life.
It's easy and quick to register for the e-Learning for Healthcare portal. This means you'll get customised certificates of completion for each of the modules.
Continuing professional development
The best page to bookmark is our education and training guide on GOV.UK. This lists all our resources in one place.
These include: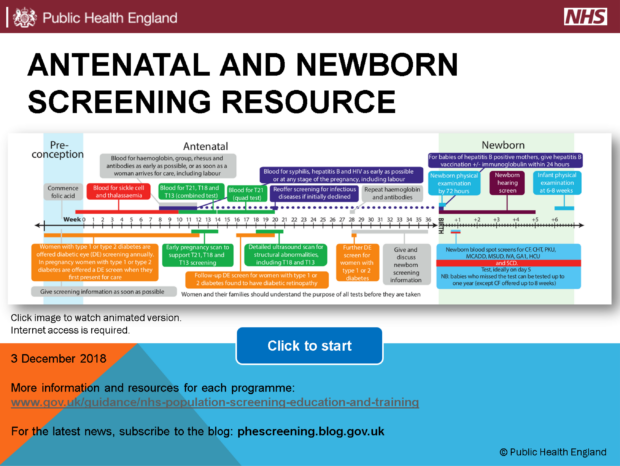 Find out more
Visit GOV.UK for information, guidance and publications on all our screening programmes. You can also download the public leaflets.
Screening information for the public can be found on NHS.UK.
Stay in touch
The PHE Screening blog (what you're reading now!) is the best way to stay up to date with everything that's new across all the NHS Screening Programmes. Make sure you subscribe to get updates straight to your inbox.
For daily updates, sign up to our Twitter feed.
Helpdesks
If you have a question relating to screening in England, contact the screening helpdesk. Please note however that it does not have access to individual screening results.
If you have a question about e-learning, contact e-Learning for Health.
Finally, we'd like to wish you well in your midwifery studies and hope you enjoy working with the population screening programmes.
PHE Screening blogs
PHE Screening blogs provide up to date news from all NHS screening programmes. You can register to receive updates direct to your inbox, so there's no need to keep checking for new blogs. If you have any questions about this blog article, or about population screening in England, please contact the PHE screening helpdesk.