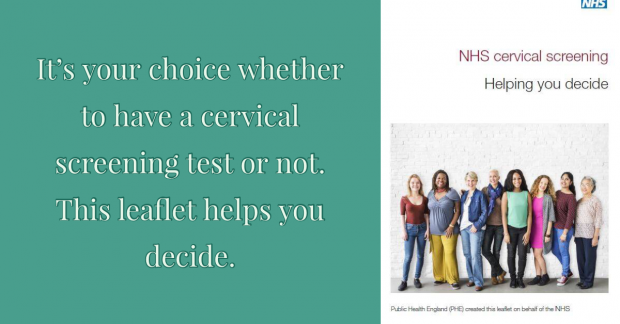 The NHS Cervical Screening Programme is pleased to announce the launch of new Human Papillomavirus (HPV) primary screening invitation and result letters, along with new information leaflets.
HPV primary screening is currently being rolled out across the whole of England and the new leaflets and letters are supporting the implementation.
The sample is first checked for HPV. If the virus is found, then the same sample is checked for abnormal cells (cytology). The new leaflets include information about this new way of testing samples and help people make an informed choice.
Wide engagement has been a big part in developing the resources and there has been an emphasis on ensuring that there is no right or wrong choice when it comes to cervical screening.
Professional, public and user engagement 
We worked closely with groups including:
With informed choice being at the heart of the screening programme, the resources have undergone rigorous testing with focus groups, ensuring content is fit for purpose, accessible and inclusive.
The focus groups included people of various ages and ethnic groups.
We were pleased to work alongside Macmillan Cancer Support's lesbian, gay, bisexual, and transgender (LGBT) programme coordinator to tailor the resources and adopt a more inclusive approach to meet the needs of our screening population.
We worked with people with learning disabilities to update our cervical screening easy read invitation leaflet and letter.
The recent HPV Pilot psychological evaluation study outcomes has also informed changes to the result letter for women who have had HPV found in their sample but negative cytology. This includes the addition of a 'more information about your results' page, in the hope to reduce the potential anxiety of women who are recalled for further screening in 12 months' time.
Two new leaflets
There are brand new leaflets for those who are: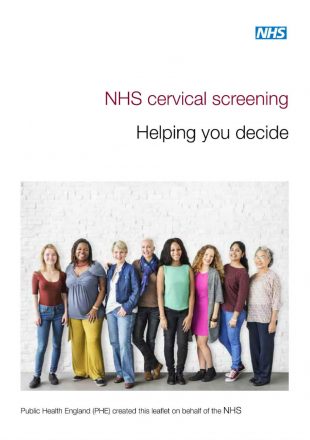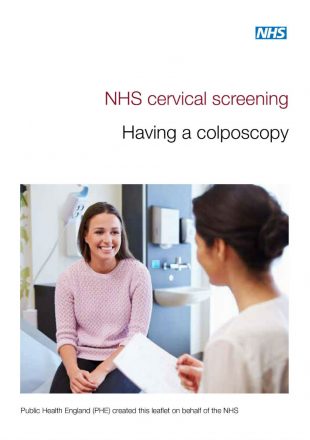 The green 'Helping you decide' and colposcopy leaflets many of you will be familiar with, will be gradually phased out as HPV primary screening is implemented.
The changes
Invitation letter
The new leaflet that accompanies the invitation letter explains the change in testing the screening sample, although there is no difference to the examination for the individual.
There is no need for GP practices to include specific local information on the new invitation letter, however there is space should practices want to do so.
Practices can contact the administration service that supports the national cervical screening programme for more information if needed.
People not registered with a GP
There's a new invitation and reminder letter designed specifically for people who are not registered with a GP but are registered with the cervical screening call and recall service.
The invitation takes account of their different circumstances and what they need to do in order to be screened and access results.
New sensitive letter
One of the things we have concentrated on is revising the letter we send out to women who no longer need cervical screening following a hysterectomy, which can be a difficult and emotional experience.
We have to confirm this information to these people in the new letter (in case the information is incorrect), but we have tried (with the help of Jo's Cervical Cancer Trust) to make the wording as sensitive as possible.
Thanks to our partners
We would like to thank the staff who have worked tirelessly to make this possible and thank all the organisations and people we engaged with who gave their time to produce some excellent resources.
PHE Screening blogs
PHE Screening blogs provide up to date news from all NHS screening programmes. You can register to receive updates direct to your inbox, so there's no need to keep checking for new blogs. If you have any questions about this blog article, or about population screening in England, please contact the PHE screening helpdesk.