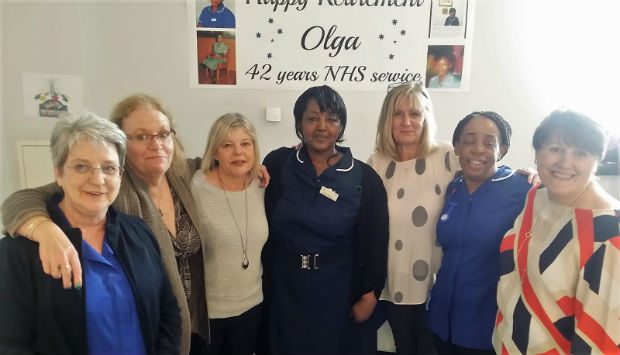 My name is Olga Ferguson and after 42 years working in the NHS, it's finally time to put up my very worn out feet and move onto my next adventure.
I've had the privilege of leading a fantastic screening team at Walsall Manor Hospital for the last 10 years. I'm going to miss my colleagues, friends and the pregnant women of Walsall terribly.
I started my career as a mental health nurse at Sandwell General Hospital in West Bromwich in 1977. However, my true calling was in midwifery.
I started my training alongside Sharon Webb, Public Health England's infectious diseases in pregnancy screening programme manager, in 1988. We were part of a new research and evidence-based training programme at New Cross Hospital in Wolverhampton.
'Conducting' my team
In 2009, I became Antenatal and Newborn Screening Coordinator in Walsall, and never looked back. It was a challenging, yet extremely rewarding, role. Screening requires multiple disciplines and organisations working together to support women and their families, and at often stressful and difficult times in their pregnancy.
My role as coordinator was often like being a conductor of an orchestra. Continuously waving the baton to ensure everyone was playing the right tune in harmony at the right time. Establishing these relationships are vital.
Tips on how to be a successful coordinator
Having a strong backbone, and a big biscuit barrel, really helps. My other tips for being successful in this role include:
making the effort to meet other professionals such as laboratory and genito-urinary medicine (GUM) teams
always putting the woman's needs at the heart of all discussions
using data and evidence to make your case for changes
making the work fun
keep smiling
No more KPIs
Data is powerful. It's something I always used in our screening board meetings to support service improvements and to help increase our standard of care. Staying later at the office just to meet the KPI submission deadlines wasn't always my favourite task. However, I recognise how important it is.
Which cruise shall I do first?
It is, with a little sadness, time for me to hand over the baton and stewardship of the team. I'm looking forward to enjoying a cup of tea, and a piece of my retirement cake that Sharon made for me while I plan my next trip. I'll have fond memories of my years in this role and applaud all the screening teams out there.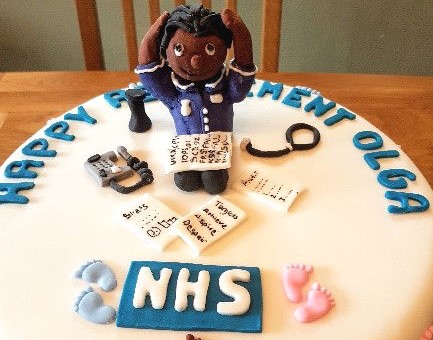 We make a difference to women, their babies and families, and should be proud of everything that we do.
PHE Screening blogs
PHE Screening blogs provide up to date news from all NHS screening programmes. You can register to receive updates direct to your inbox, so there's no need to keep checking for new blogs. If you have any questions about this blog article, or about population screening in England, please contact the PHE screening helpdesk.