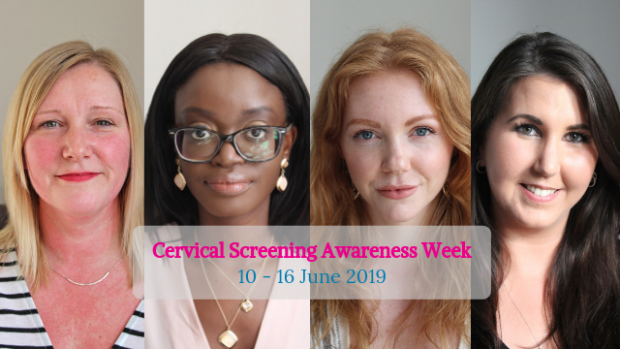 This week is Cervical Screening Awareness Week (CSAW) and here at Jo's Cervical Cancer Trust we are talking about cell changes. Why?
Because every day at Jo's we hear from women who are scared and confused after getting the results of their cervical screening or colposcopy.
Falling between the gap of cervical screening and cervical cancer, the needs of women with cell changes can sometimes be overlooked.
Cell changes can go by many names, such as:
abnormal cells
cervical abnormalities
dyskaryosis
CIN
CGIN
Add this to other words in cervical screening such as HPV, LLETZ and colposcopy, is it any wonder some women are unsure what it all means?!
Supporting women
At Jo's we wanted to talk about cell changes. We feel that there is already so much worry and stigma surrounding HPV and cervical health that we don't want to add to it.
Cell changes are relatively common. In fact, more than 200,000 women will have them each year in the UK.
If needed, treatment is given to prevent cell changes from developing into cervical cancer, with a high success rate of about 90%.
However for many women, a diagnosis of cell changes can be a very confusing and scary time.
Our new report 'Not so simple. The impact of cell changes and treatment' highlights the experience of some of these women and highlights opportunities to improve the care that is offered.
We are absolutely not trying to dissuade women from attending cervical screening or recommended treatment. We know treatment for cell changes is highly effective at preventing the development of cervical cancer – the impact of which can be truly devastating. But based on our new research we are emphasising how important it is that women diagnosed with cell changes are supported before, during and after treatment.
Working to improve knowledge
The calls and queries we get at Jo's are wide-ranging. Some of this stems from results letters, where words such as 'dyskaryosis', 'severe' and 'stage 3' cause alarm. There is also a level of confusion around HPV.
Many women contact us after treatment, asking things such as when they can swim again, is it safe to have sex, or how long they should expect their bleeding to last.
Others are terrified they have cancer, will have cancer or will experience things such as a miscarriage.
National literature, including that published by Public Health England, includes information on known side effects of treatment. There seems to be a reliance on women to have found, remembered and understood this information. It would be much better instead if health professionals could discuss side effects with women and answer their questions.
Discussion should include when duration or severity may indicate the need for medical intervention and who the most relevant healthcare professional to visit is.
Not being aware of side effects means women are more likely to feel scared and concerned if they do experience them.
It also means they won't know where they can access support or medical intervention if needed, or even whether they will be taken seriously if they do ask for it.
Change is happening
We have worked with PHE on the new cervical screening letters and patient leaflets, including colposcopy leaflets and letters and we look forward to these letters and leaflets being launched very soon.
PHE agrees that standardised information for the programme is essential and we will continue to work with them to improve the information available for those undergoing treatment.
We would encourage every organisation who produces information to review what is given out, but further identify opportunities to discuss it with patients.
Final word
This is the final blog of a series PHE Screening has featured by Rob Music, chief executive of Jo's Cervical Cancer Trust. The other 2 were:
We hope you have enjoyed reading them.
PHE Screening blogs
PHE Screening blogs provide up to date news from all NHS screening programmes. You can register to receive updates direct to your inbox, so there's no need to keep checking for new blogs. If you have any questions about this blog article, or about population screening in England, please contact the PHE screening helpdesk.