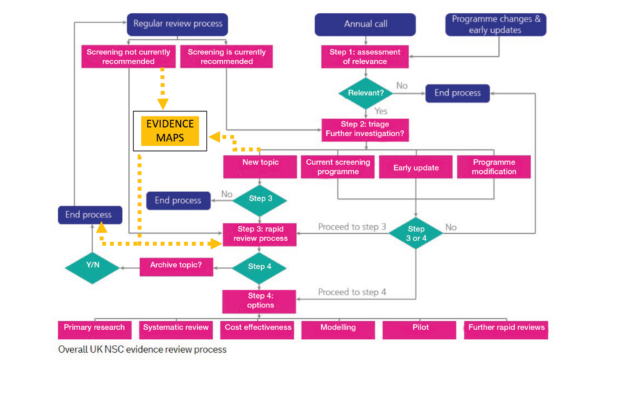 I joined the UK National Screening Committee (UK NSC) evidence team over a year and a half ago. It never ceases to amaze me how many different types of work we can commission at any one time to make sure the UK NSC looks at a topic in the most appropriate and proportionate way.
The UK NSC published its evidence review process back in 2015 explaining how it:
consults and makes recommendations on new topics
changes existing screening programmes
brings together and analyses evidence for more than 100 conditions on a regular basis
Central to the process is checking if there have been any significant developments in the evidence base. Over the years, we have reviewed most of the topics on the list of conditions 3 or 4 times. In some cases, we keep finding the same evidence gaps and limitations year on year.
The evidence mapping approach
To try to make the evidence review process more efficient, the UK NSC evidence team has recently started trialling a new approach called 'evidence mapping'.
Evidence maps are a way of scanning published literature to look at the volume and type of evidence about a topic. These maps can help the UK NSC decide if there is currently enough evidence available to commission a more in-depth review of the topic we are considering.
The evidence team is interested in this approach as it may provide a reliable and efficient way of making sure the UK NSC keeps its recommendations up to date.
It is still early days, but the diagram at the top of this post gives an idea of where evidence maps can fit within the broader evidence review process.
Consulting public and stakeholders
If you would like to see what an evidence map looks like in practice, head over to the UK NSC recommendations website and check out the document we wrote on antenatal and newborn screening for Fragile X Syndrome.
A public consultation on another evidence map, this time for Parvovirus B19 infection in pregnancy, opened recently and you can comment on this new document.
As ever, please let us know what you think by contacting us through the PHE screening helpdesk.
Stakeholders can also alert us at any point to new evidence which is published in between regular updates and may lead to a screening programme modification.
In addition, remember that the annual call for topics opens every year in September and gives the public a regular opportunity to suggest new topics which might be evaluated against the UK NSC criteria.
PHE Screening blogs
PHE Screening blogs provide up to date news from all NHS screening programmes. You can register to receive updates direct to your inbox, so there's no need to keep checking for new blogs. If you have any questions about this blog article, or about population screening in England, please contact the PHE screening helpdesk.