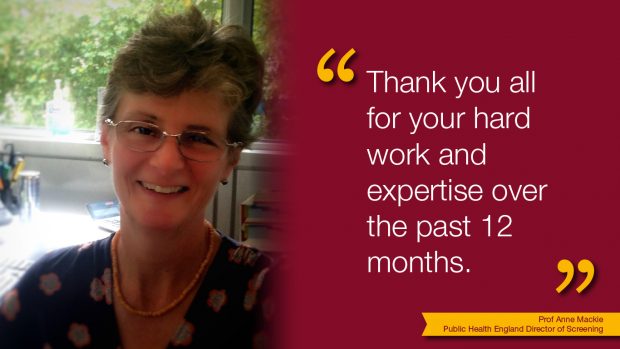 I am sure you, like me, are looking forward to spending time with family and friends over Christmas at the end of a very busy and often challenging year in screening.
I'd like to take this opportunity to thank you all for your hard work and expertise over the past 12 months.
Learning from challenging times
Millions of people benefit from screening each year and we usually make the headlines for all the right reasons. As you know, that has not always been the case in 2018 because of issues with the arrangements for inviting women in the breast and cervical programmes.
We will carefully consider and learn from all the findings of the independent breast screening review report and emerge with an improved national programme as a result. At the same time, screening quality assurance service (SQAS) colleagues are working hard to support NHS England and Capita in investigating why thousands of women did not receive cervical screening invitation, reminder and result letters on time in 2017 and 2018.
I'd like to thank all of you in PHE Screening, as well as our commissioning and clinical colleagues, who have been working so hard to resolve and learn from these issues while continuing to provide exceptional screening services.
Tackling inequalities
During 2018, we screened well over 10 million individuals and identified hundreds of thousands who needed further investigation or essential treatment. Most of these people had not actively sought care and had no symptoms, which underlines why screening is such an important public health intervention.
We know some groups face barriers to accessing screening. Publication of our inequalities strategy in May underlined our commitment to do all we can to make sure screening is a truly equitable public health intervention regardless of location, ethnicity, age, disability or gender.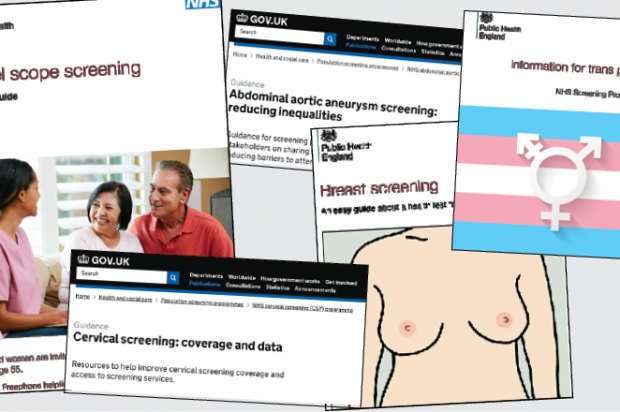 We have set up a new national operational group to drive this work forward and have already achieved a great deal, including:
All these resources give NHS screening providers powerful tools to help make sure people understand the screening they are offered and to participate if they wish to.
Evidence reviews
It has been another busy year for the UK National Screening Committee (UK NSC) and the national evidence team.
The UK NSC made 11 recommendations in 2018, including the decision to recommend lowering the age limit for bowel cancer screening. The committee decided against recommending screening for spinal muscular atrophy (SMA) but we are keeping a close eye on the development of a new drug that could provide more promising evidence for this next time around.
We are currently consulting on screening for 9 different conditions, including breast cancer and cervical cancer, and the evidence team has already started work on reviewing a further 27 conditions in 2019.
Preparing for major changes
We continue to support the NHS to change 4 of our most complex programmes with the introduction of:
the new faecal immunochemical test in the bowel cancer programme
non-invasive prenatal testing in antenatal screening
risk-based screening intervals in the diabetic eye programme
This work involves every single member of the PHE Screening division and I want to thank you all for your endless patience and expertise.
Exploring genomics technology
Looking forward, the UK NSC and PHE Screening are supporting the Government strategy on genomic technology in healthcare and the delivery of the PHE-led recommendations in Chief Medical Officer's generation genome report.
Experts in genomics study the entire DNA content within one cell of an organism to help understand disease.
Genomic technology has the potential to transform healthcare by helping to:
determine disease risk
enhance preventive care
support more accurate diagnosis and inform therapeutic decisions
ensure more patients get the right treatment at the right time
We are working with the screening advisory committees to explore the potential to use genomic technologies in our existing programmes. Of particular interest will be how genomics might inform personalised screening and treatment strategies.
PHE screening is also providing advice and guidance on how screening principles might translate to whole genome sequencing (the process of determining the complete DNA sequence of an organism's genome at a single time) in newborn infants.
Watch this space for developments as we continue to follow the evidence in 2019 and beyond.
Artificial intelligence in screening
Advances in artificial intelligence (AI) also have the potential to significantly impact the world of screening.
AI is the area of research that finds ways for computers to do things that typically require human expertise. This could include solving complex problems or learning from experience.
Recent years have seen great strides in machine learning, specifically in the field of computers being able to reliably identify disease in static images such as X-rays.
This raises the potential of AI in future being able to give a diagnosis based on an individual's screening images – for example, mammograms in the breast screening programme and digital photographs in the diabetic eye programme.
We will monitor this new technology closely to make sure screening gets maximum benefits with minimum risk.
In line with the UK's Industrial Strategy, which lists AI as one its 4 Grand Challenges, PHE Screening is developing a clear process for researchers, AI developers and service providers to follow. This will enable AI to be incorporated into screening safely, reliably and efficiently where appropriate.
See you in 2019
The PHE Screening blog is now taking a well-deserved rest over Christmas.
Have a wonderful break and see you all in 2019.
PHE Screening blogs
PHE Screening blogs provide up to date news from all NHS screening programmes. You can register to receive updates direct to your inbox, so there's no need to keep checking for new blogs. If you have any questions about this blog article, or about population screening in England, please contact the PHE screening helpdesk.