The NHS Bowel Cancer Screening Programme reduces the risk of dying from bowel cancer by detecting disease before symptoms appear when it is easier to treat and there is a better chance of survival.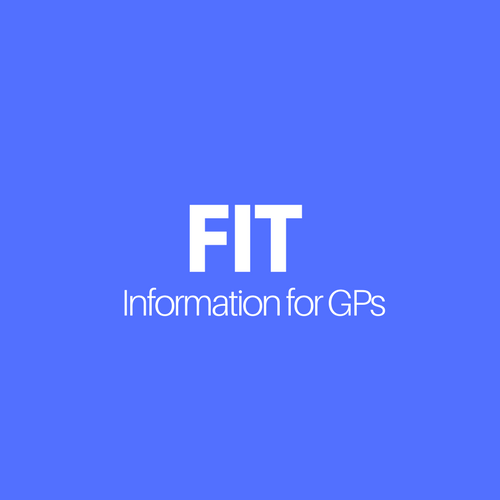 The programme will be introducing a new improved home test kit for screening. It is called a faecal immunochemical test (FIT) and it will replace the guaiac faecal occult blood test (gFOBt).
It's important that GPs and others working in primary care understand this change to the screening programme and its implications for their patients, so here is a brief summary.
The FIT kit
FIT specifically measures human blood, rather than any blood (including blood in the diet). It needs only one faecal sample in contrast to the gFOBt kit that needs 6 samples from 3 bowel motions.
FIT is already used successfully in screening programmes worldwide. Pilots in England have shown that people are much more likely to use FIT than gFOBt.
Advantages of FIT
FIT requires a single sample which is easily collected and is then returned in a sealed bottle.
FIT can detect human haemoglobin (Hb) at lower concentrations and with much less interference than gFOBt. It can detect more cancers, and particularly advanced adenomas (tumours that may become cancers), and will have fewer false positives. This means we will remove many more polyps at colonoscopy that might otherwise grow into cancers.
FIT will reduce the number of repeat tests needed, as there are no borderline results (only normal or abnormal).
Implementation
FIT will be implemented throughout England.
During the first few months following roll-out, anyone who has returned a gFOBt kit and needs to repeat the test will be sent a replacement gFOBt kit. Only FIT kits will be sent out after this brief transition period. People will not be able to choose which kit they receive.
The FIT test
The FIT kit consists of a small plastic container with a stick attached to the lid. People collect samples using the following steps.
Scrape the tip of the stick along the bowel motion.
Put the stick back into the bottle.
Click the bottle shut.
Put the used kit into the return freepost packaging and send for analysis.
Results
People will get one of 2 screening results. These are:
normal result: no significant level of blood detected
abnormal result: blood detected and the individual is offered an appointment to discuss colonoscopy
Results will be sent to participants within 2 weeks of the kit arriving for analysis. GPs will be notified of all test results.
Tests following an abnormal result
Anyone who has an abnormal result will be offered an appointment with a specialist screening practitioner (SSP) to discuss having a colonoscopy.
Computed tomograpic colonography (CTC) might be considered for people who are unfit for colonoscopy.
FIT in symptomatic patients
FIT is a technology that can also be used in specific clinical situations for symptomatic patients. This is defined in guidance from the National Institute for Health and Care Excellence (NICE) published in July 2017.
Family history
Having a first degree relative (parent, sibling or child) with bowel cancer diagnosed under the age of 50 may indicate an increased risk. GPs can refer such patients to a genetic specialist for assessment.
More information
The NHS Bowel Cancer Screening Programme operates a freephone helpline on 0800 707 60 60 for public and primary care enquiries.
Bowel cancer screening in England
| | |
| --- | --- |
| Age | Screening test |
| 55 | One-off bowel scope investigation using flexible sigmoidoscopy. People can accept the invitation any time up until they receive an invitation for FIT when 60 years old. |
| 60 to 74 | Biennial (every 2 years) at-home screening using FIT. People collect a single faecal sample on a stick, and return it to the Screening Hub for analysis in a prepaid package. |
| 75 and over | Biennial screening using FIT available on request from the Screening Hub using the free helpline on 0800 707 60 60. |
PHE Screening blog
PHE Screening BLOG articles provide up to date news from all NHS screening programmes – replacing our previously published newsletters.
You can register to receive updates direct to your inbox, so there's no need to keep checking for new blog articles.