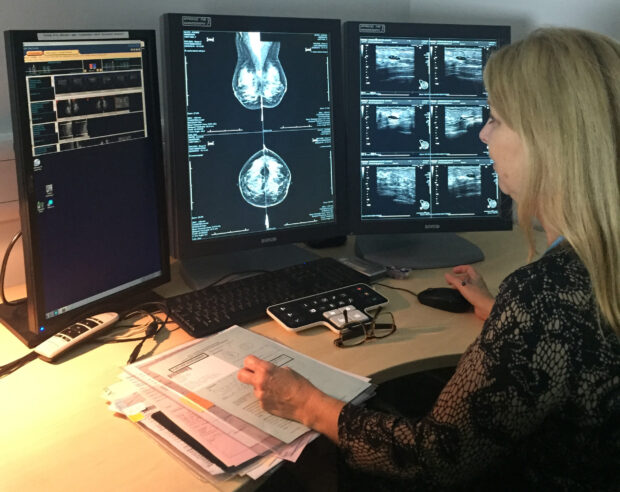 A limited amount of funding is available to support the training of 150 additional reporting radiographers in England during the 2019 to 2020 financial year – an initiative that includes the breast screening workforce.
Employers in NHS trusts are being invited to offer their radiographers the chance to develop capability in image interpretation and reporting.
Participants of the Health Education England (HEE) and Public Health England (PHE) endorsed scheme will be supported to undertake College of Radiographers approved programmes of study leading to either a Postgraduate Certificate or upskilling to a Postgraduate Diploma.
Financial support is available during training and it is expected that once students have completed their studies they will work as advanced practitioners within radiology reporting teams.
Postgraduate Certificate
This qualification should cover advanced practice skills including mammography image interpretation and reporting.
Postgraduate Diploma
This 'top up' qualification could cover the addition of reporting to specialist image acquisition practice. This could include further study to include mammography image interpretation for radiographers holding a Postgraduate Certificate in mammography.
Increase in capacity
The aim of the scheme, part of the NHS National Cancer Workforce Plan for England, is to increase radiographer reporting capacity.
Study that increases radiographer reporting capability (for example by extending existing reporting practice to other clinical areas such as adding magnetic resonance imaging (MRI) breast reporting to mammography image interpretation) will only be supported where it can be demonstrated that it will:
lead to additional reporting capacity
release more radiologist time
Eligibility
Participants must:
be existing senior radiographers working in the NHS in England
have the support of their local clinical imaging service manager and clinical director
meet the entry requirements for the relevant College of Radiographers approved higher education institution course
address an identified service need
Financial Support
HEE is offering financial support, which will require an employer contribution. Specifically, the offer is for:
a training grant to facilitate the release of staff during training
course fees for a College of Radiographers nationally approved M-level training programme
funding to support local clinical supervision and mentoring
Apply now
Funding is available from summer 2019 and interested radiographers are advised to secure early agreement with their employer before they apply for courses.
At the same time, if they have not already done so, service managers wishing to support trainees are asked to register their interest with their local HEE cancer workforce link. For:
PHE Screening blogs
PHE Screening blogs provide up to date news from all NHS screening programmes. You can register to receive updates direct to your inbox, so there's no need to keep checking for new blogs. If you have any questions about this blog article, or about population screening in England, please contact the PHE screening helpdesk.