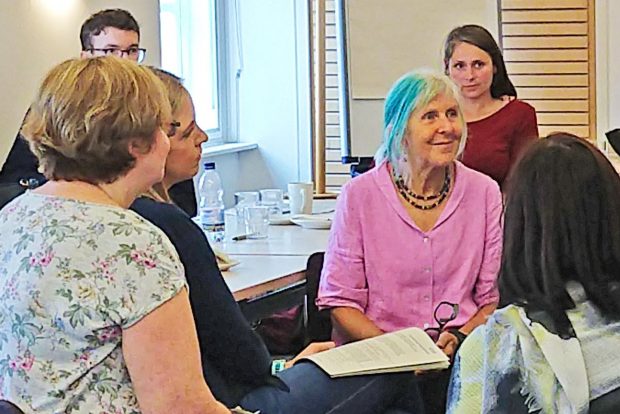 Screening masterclasses have provided a one-day kickstart for anyone new to screening – and a valuable refresher for those with many years' experience – for nearly 20 years.
Dr Angela Raffle has been central to the success of these popular study sessions since developing them with Sir Muir Gray, the first director of the UK National Screening Committee.
 The masterclasses, usually held in London, cover:
the fundamentals of screening
unpacking the consequences of screening
the use of evidence in screening
an overview of the 11 NHS screening programmes
a question and answer session with the Director of Screening
an interactive session based on screening scenarios
The sessions are open to all staff working in screening and those on the periphery wanting to learn more. There is usually a great mix including doctors, nurses, midwives, screeners, administrators, programme managers, project managers, laboratory staff, public health staff and commissioners.
On 'UK tour' with Muir
Angela, a Consultant in Public Health and Honorary Senior Lecturer at University of Bristol Medical School, said: "The earliest origins of the screening masterclass go back to the 1980s. Muir Gray, then a Consultant in Public Health in Oxford, was busy sorting out cervical screening – there were no quality standards, precious little training, and screening was not a fashionable thing to be involved in.
"I was a senior registrar in public health in Bristol at the time, working to improve the local cervical screening service and publishing research about over-detection. It struck me that almost everything then taught about screening was wrong."
Muir commissioned Angela to produce a teaching pack called 'Understanding Screening'. To develop the pack, she ran interactive learning sessions with GPs, public health staff, pathologists and clinicians, devising practical examples to bring the subject to life. Angela began to be invited to teach all over the UK.
The National Screening Committee came into being in 1996 and the national screening programmes began to take shape. In 2001, primary care groups came on the scene and responsibility for providing high quality screening fell to hundreds of newly appointed directors of public health (DPHs), many with no experience or training in screening.
"Muir said 'We'd better get on the road' and he and I devised a learning day to take around the UK," recalled Angela. "This enabled Muir to meet many of the new DPHs and instill in them enthusiasm and insight for achieving high quality screening. We called it a 'masterclass' so that important busy people would come!"
Waiting list shows demand is still growing
When Muir retired in 2007, current UK NSC Director Professor Anne Mackie and National Lead for Stakeholder Information and Professional Education and Training Jo Harcombe worked with Angela to make sure the masterclass continued to thrive and evolve. The book 'Screening; evidence and practice' (second edition due June 2019) and the interactive online learning module provide essential further learning, together with the extensive resources on GOV.UK.
Jo said: "For the past 12 years I have been facilitating the masterclasses across the country with Angela.
"We have managed to commit to all planned sessions even in the face of sickness, accidents, storms, snow and rail strikes! We have been rewarded by full attendance, energetic discussions and excellent evaluations.
"We thought that demand might dwindle with time, but the appetite is growing and we now have a waiting list. The reputation of the course is high, it represents value for money and is a great networking and learning opportunity, especially for those new to screening."
Nadia Permalloo, Head of Screening Quality Assurance Development, has also started to co-facilitate the masterclass so more dates can be offered.
The formula for the day has not changed much over the years and feedback suggests it is a winning one. The afternoon is interactive and involves some role play, which is always embraced with good humour.
Jo added: "Some people prefer not to take an active part in the role play and that's fine with us – they become the 'active listeners'. We adapt our style to the group on the day depending on the combined experience and knowledge. We take care to look after participants and ensure that everyone has a positive experience.
"We are proud of the success and sustainability of the masterclass. We are so grateful to Angela for her unwavering enthusiasm, her expert knowledge and understanding of screening, her commitment to improving the quality of services for people offered screening, and for her skill as a teacher."
Feedback from the most recent masterclass was typically positive with 76% rating it 'excellent' and the remaining 24% 'very good'.
Asked what was the most useful part of the day, participants said:
Learning about all the screening programme pathways.
Importance of the use of language.
Case studies encouraged us to look at different viewpoints.
Screening isn't perfect.
Open and honest discussion with the director of screening.
Great atmosphere, warm and welcoming.
Knowledgeable and approachable speakers.
Great to network and learn from others.
In answer to 'What was unhelpful?' they said:
Nothing.
Please put more masterclass sessions on.
Can we have a follow-up?
You can apply for a place on a masterclass by email to the course administrator. A small charge is made to cover refreshments.
PHE Screening blogs
PHE Screening blogs provide up to date news from all NHS screening programmes. You can register to receive updates direct to your inbox, so there's no need to keep checking for new blogs. If you have any questions about this blog article, or about population screening in England, please contact the PHE screening helpdesk.