Liverpool John Moores University (LJMU) has run the specialist bowel cancer screening practitioner programme for the past 11 years.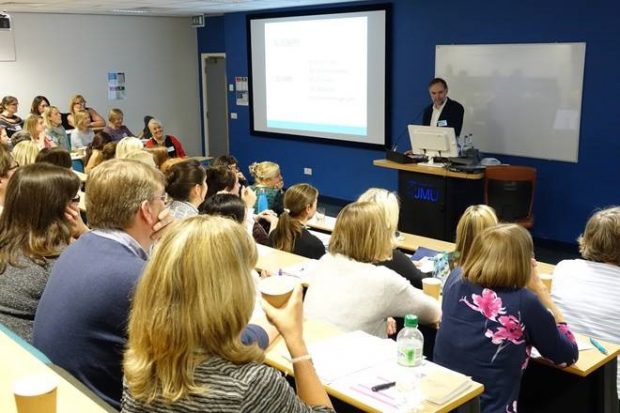 The course is the only one of its type in England, providing specialist screening practitioners (SSPs) with advanced level skills and insights on bowel cancer screening developments, treatment and support.
Following a collaborative review by LJMU and PHE, the programme has been updated to reflect the latest developments in bowel cancer screening.
Changes to the course from November 2018
Revisions to the programme include:
a reduction in the number of taught days from 10 to 5 plus an induction day
enhanced distance learning activities
a reduction of the assessment load for SSP students
The cost of the course has also been cut – from £3,000 to £1,800 per Level 6 student and from £2,100 to £1,575 per Level 7 student.
The programme consists of 400 hours of learning and is offered 3 times a year, with intakes in September, November and March.
The course is only open to bowel cancer screening practitioners working in the NHS Bowel Cancer Screening Programme (BCSP).
To help LJMU manage capacity it would be helpful for any new staff to contact the admissions team when they start their SSP post.
You can contact admissions and information officer Sharon Gibson by:
Post: Tithebarn Building, 79 Tithebarn Street, Liverpool, L2 2ER
Tel: 0151 2315844
Email: Gibson@ljmu.ac.uk
If you have any queries about the changes to the course you can email Sue Baker, programme lead for the BCSP at LJMU, at s.c.baker@ljmu.ac.uk.
Upcoming course dates
Cohort 34
12 November 2018 to 14 June 2019
Cohort 35
11 March 2019 to 1 November 2019
Cohort 36
23 September 2019 to 1 May 2020
Cohort 37
11 November 2019 to 12 June 2020
Cohort 38
9 March 2020 to 13 November 2020
How to apply
You can apply using the LJMU online application form selecting postgraduate taught from the level of entry drop down menu.
PHE Screening blogs
PHE Screening blogs provide up to date news from all NHS screening programmes. You can register to receive updates direct to your inbox, so there's no need to keep checking for new blogs.