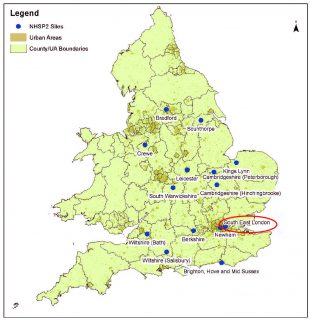 Map showing NHSP sites with KPI NH2 performance over 95% for 3 or more quarters
Our recent PHE Screening blog article looked at how we're sharing learning to improve the performance of NH2, the newborn hearing screening key performance indicator (KPI) that aims to ensure early assessment of babies referred for audiological assessment.
We have published a report that describes what we learnt from the best performing newborn hearing screening programme (NHSP) sites in England.
One of those sites was South East London. Here, in the final of our series of 3 blog articles, Jolanta McCall, Head of Paediatric Audiology/Newborn Hearing Screening Programme at Evelina London Guy's & St Thomas' NHS Foundation Trust, describes how they have achieved this success.
The South East London Newborn Hearing Screening Programme (SEL NHSP) is one of the largest hearing screening programmes in England. In November 2015 we merged with 2 neighbouring community sites which resulted in a huge increase in our screening coverage. Currently the programme covers 6 very diverse London boroughs with 26,000 annual births, providing hearing screening in 5 acute hospital sites and outpatient clinics.
SEL NHSP is part of the paediatric audiology service, providing an integrated care pathway from screening to audiology and beyond. We have a single point of entry to the service. Administration is based at the same location and uses the audiology patient management system.
Regular staff meetings
We attend monthly audiology staff meetings where we can contribute to any changes required so we are responsive to the needs of the patients in a timely manner. Both teams are aware of their achievements and the challenges and we support each other to deliver an integrated service. Implementing changes to clinical protocols as well as sharing data between teams is crucial in making joint decisions.
This kind of joint working ensures appointment slots are always available, which enables babies referred from screening to be seen for diagnostic testing within the NH2 target of 4 weeks. The audiologists are proactive in re-adjusting their appointments timetable if they are notified that a baby may not be seen within the timeframe.
We regularly seek parents' feedback and are responsive to their ideas and suggestions.  Recently we established an additional diagnostic outpatient clinic in a community location to make the service more accessible to our little patients and their families and to improve attendance rates.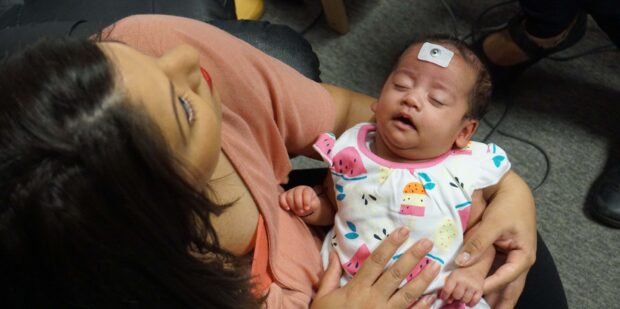 Hub and spoke model
SEL NHSP has been structured as a hub and spoke model to accommodate the challenges associated with the large geographical area covered. Each of the 5 hospital screening sites has a senior screener who is responsible for daily operational tasks. The senior screeners secure essential communication links with the maternity, neonatal intensive care and IT services within their hospital sites. This helps us meet our NH2 target by making sure all staff are aware of the importance of the timeliness in carrying out the screening and the direct impact this may have on the timeliness of the diagnostic appointment.
With the support of the local managers, the senior screeners are the first point of contact for any local issues within their hospital site. They represent SEL NHSP at their local trust screening group and children hearing services working group meetings, where they share data and provide updates.
We have well-established communication routes within the screening service which also contribute to our NH2 success. Issues raised at the individual site meetings which may impact on the ability of the service to meet the NH2 target are fed back by the local managers directly to the audiology team so actions can be taken quickly.
We are very proud of our achievements and we continue to strive to meet the future challenges so that we keep providing a high quality service.
PHE Screening blogs
PHE Screening BLOGs provide up to date news from all NHS screening programmes. You can register to receive updates direct to your inbox, so there's no need to keep checking for new blogs.