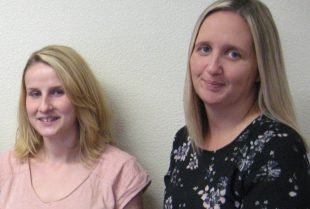 Sarah Mills and Emma Jewkes, who both completed their Level 3 Diploma in September 2017
The level 3 Diploma for Health Screeners launched on 1 April 2016. This national qualification is now a requirement for non-professionally regulated staff working in abdominal aortic aneurysm screening, diabetic eye screening and newborn hearing screening.
An exciting new teaching opportunity
We have a long history of audiology training and assessing at City Hospital Birmingham. So when the new Level 3 Diploma for Hearing Screeners became available, it was an exciting prospect and an opportunity for us to get stuck in to formal assessing again. My team leaders, Dr Suki Dhillon and Dr Helen Robertson, were both supportive of the development,  as they are committed to providing a quality service with a well-trained and formally assessed workforce.
Our journey started over a year ago, when we first approached the learning and development (L&D) team within the Trust. We were already well placed to hold assessments – I hold the D32/D33 assessor awards and Rachel Hair, our chief newborn hearing screener, holds a Certificate in Assessing Vocational Achievement (CAVA).  We did, however, need an internal quality assurer (IQA) to verify our work.  While working on my award, my IQA work has been second-line assessed by a qualified IQA from L&D which means that I've had ongoing feedback, which has been really reassuring.
It's been a busy time, with 2 new learners registering in September 2016, 2 in November and another 6 in March 2017.  As the assessor, Rachel has worked tirelessly to support learners and plan/undertake assessments.  Our first 2 learners, Sarah Mills and Emma Jewkes,  completed the diploma in September, although we are waiting for our external quality assurer to visit and verify their award.  Sarah and Emma successfully completed the award within 12 months.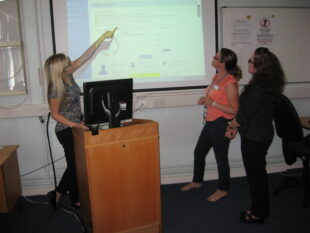 From left: Lauren Weigh, of Sandwell and West Birmingham Learning & Development team, with Sarah Murphy and assessor Rachel Hair
Emma said:
I do feel that the diploma has been very useful to complete, although there was a little more work than I anticipated. I was able to relate a lot of my e-learning, observed structured clinical examinations (OSCEs) and observations to the work books and professional discussions.

I have learned a lot through working in a clinical environment; far more than I would have done without doing the diploma, so this  has definitely developed my role as a newborn hearing screener.  It has given me confidence and broadened my knowledge.

I would recommend the diploma for people in any screening position – even though there is a lot of hard work involved, it is definitely good for professional development.
What we've learned
The qualification has seen a big change in the work needed by the management team – Rachel and I have embraced this and I'm really pleased with how it has gone.  Assessments include short written answers, verbal questions, discussions, direct observations, scenario questions, case studies, learning logs and reflective diaries – we hope the range of assessments will  mean that there will be something for each learner.
With the support of the national team, we completed our first local OSCE last September.  Thankfully we do have great support from our regional newborn hearing screening managers to help pull this off, with everyone helping in their different roles as assessors, actors and time keepers.
Moving forward, we realise just how much time the diploma takes to do a really good job, and we are keen to ensure that we are able to deliver the best quality programme for everyone who enrols with us.  We have regular meetings to review the structure of the diploma, we make sure that things are as efficient as possible and ensure that there is a standardised approach to assessment within the team.
Input from the local manager is important, as they are with the student, so witness testimonies are vital to provide evidence of things we may not see, and we also ask them to undertake some of the verbal questions and observations.  We also hope to be able to increase our capacity so we can take more students and have additional assessors available. Hopefully we will be able to increase capacity even further still with additional staffing.
Our next 2 learners are due to complete this month – but there is no rest as we have more waiting and champing at the bit to start!
PHE Screening blogs
PHE Screening BLOGs provide up to date news from all NHS screening programmes. You can register to receive updates direct to your inbox, so there's no need to keep checking for new blogs.