The 11 NHS screening programmes in England play a vital role in protecting and improving the public's health.
Today we've published our report that celebrates the achievements of these world-leading programmes during 2016 to 2017 (1 April 2016 to 31 March 2017).
The NHS Screening Programmes in England 2016 to 2017 report is full of examples of how PHE, NHS England, local commissioners and providers work together to turn evidence into high quality interventions that improve health on a daily basis.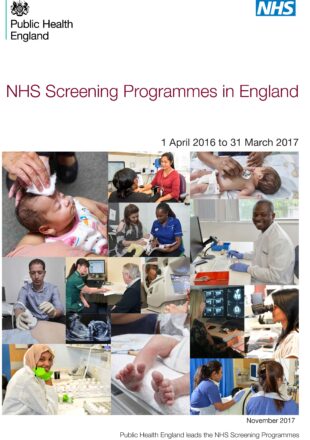 During the year, we carried out millions of screening tests and referred around 460,000 people at a higher risk of a condition, who were referred for further testing and treatment to improve their health.
The theme of the report is improving quality. We explain how we learn from incidents to improve screening quality and safety. We also focus on the way in which we collect, analyse and share the best available data and information to support programmes.
The report includes a brief explanation of what conditions we screen for and why, along with high level screening and outcome data for each of the 11 programmes.
It also highlights important programme achievements. These include:
working with providers to identify and overcome barriers to women accessing sickle cell and thalassaemia screening early in pregnancy
a joint PHE/NHS England initiative aimed at increasing coverage and access to cervical screening and reducing health inequalities
the newborn blood spot failsafe system, which means babies with 9 rare but serious conditions get the essential treatment they need as soon as possible after birth
We continuously seek to improve the safety, quality and health benefits our programmes. I'd like to thank all the screening teams, our NHS England colleagues and our many other partners and stakeholders for their continued commitment and support in this vital work.
PHE Screening blogs
PHE Screening BLOGs provide up to date news from all NHS screening programmes. You can register to receive updates direct to your inbox, so there's no need to keep checking for new blogs.