Today we have published our report highlighting the fantastic work of the 11 national screening programmes in England from 1 April 2015 to 31 March 2016.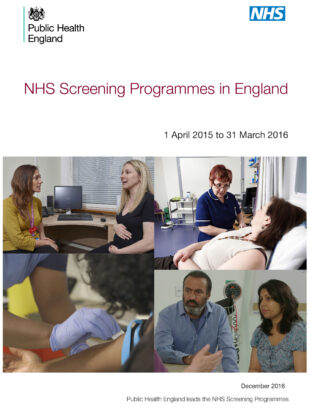 The NHS Screening Programmes in England 2015 to 2016 report (right) is full of examples of why our programmes are held in such high regard worldwide in improving public health.
During the year we carried out more than 21 million screening tests for all conditions. Cervical screening alone saved an estimated 5,000 lives and the millionth man in England was screened for abdominal aortic aneurysm.
The report includes high level screening and outcome data for each of the 11 programmes – and a brief explanation of what we screen for and why.
It also features an important achievement for each programme. These include:
quality assurance interventions that will help the bowel cancer screening programme prevent cancers
the 10th anniversary of the newborn hearing screening programme
consistency of data collection to improve the quality of the diabetic eye screening programme
ending antenatal rubella screening as a result of the success of the measles, mumps and rubella (MMR) vaccination
We continuously seek to improve the quality and efficiency of all our programmes. I'd like to thank all the screening teams, our many partners and stakeholders for their efforts in achieving this during the 2015 to 2016 screening year.
Help us improve report next year
We want to make sure we provide you with information about the NHS Screening Programmes in the format that is most useful to you.
This year's report is, as usual, available to download as a PDF from GOV.UK in addition to a small print run of hard copies  for important stakeholders. However, we're well aware that people access information in many different ways – video and audio clips, blogs and tweets to name but a few.
As a result, this year's report might be the last that we publish in our traditional format.
You can help make sure we get the format right for next year and beyond. All you need to do is fill in our brief online evaluation of this year's report. The survey should only take 5 to 10 minutes to complete.
PHE Screening blogs
PHE Screening BLOGs provide up to date news from all NHS screening programmes – replacing our previously published newsletters.
You can register to receive updates direct to your inbox, so there's no need to keep checking for new blogs.