We use key performance indicator (KPI) data to measure how the NHS screening programmes are performing.
Screening providers submit this data which aims to give a high level overview of programme quality.
We have 3 KPIs that relate to the coverage of antenatal screening. They are:
ID1- Antenatal infectious disease screening – HIV coverage
FA2- Fetal anomaly screening – ultrasound coverage
ST1- Antenatal sickle cell and thalassaemia screening – coverage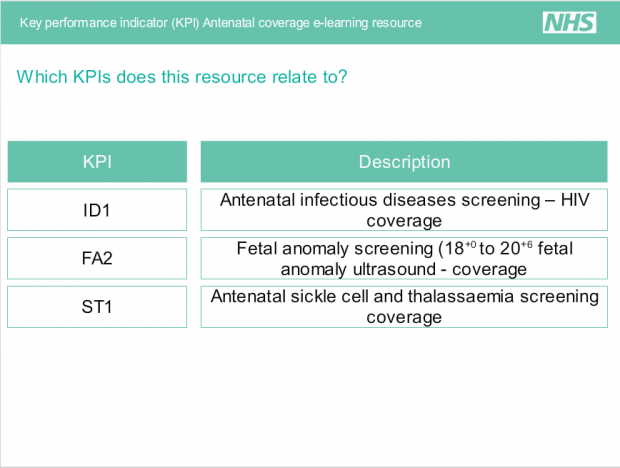 Providers have worked very hard in recent years to submit data on these KPIs.
They face many challenges when submitting this data. For example, they may have to deal with multiple IT systems that do not speak to each other. Competing priorities can also lead to time pressures.
In addition, some of the KPI definitions can be hard to understand. That is why we are today launching a simple, short and snappy e-resource. This resource helps providers better understand the KPI definitions and how to do the counting – for example, how to work out the number of exclusions.
To access the new resource, first register to access the e-learning for healthcare platform. Scroll to the Public Health section and select Quality assurance in NHS Screening.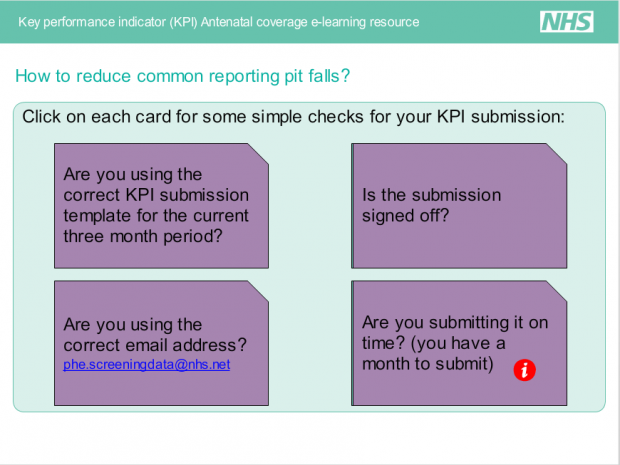 It's very important that providers don't view the KPI data submission simply as a data collection exercise. Every number relates to an individual woman going through the screening pathway. The process of submitting the data will help providers determine if that pathway is operating safely or not. For example, are women being missed?
If a provider discovers weaknesses in their pathway this should prompt local action to make sure the right women start on the pathway and that all women who start the pathway complete it.
We hope the new e-resource will help ensure a safe, high quality antenatal screening pathway for all pregnant women.
PHE Screening blog
PHE Screening BLOG articles provide up to date news from all NHS screening programmes – replacing our previously published newsletters.
You can register to receive updates direct to your inbox, so there's no need to keep checking for new blog articles.