The NHS Fetal Anomaly Screening Programme (FASP) offers screening to pregnant women so they can find out how likely it is that their baby has Down's (Trisomy 21 or T21), Edwards' (T18) or Patau's (T13) syndromes or one of a number of physical abnormalities.
Screening for Edwards' and Patau's syndromes was added to the first trimester combined test in April 2015. This test is the blood test and ultrasound scan that is offered between 10 and 14 weeks of pregnancy.
As a result, we have retired the Condensed Education Module for T21 (CEMT21) that only covered screening for Down's. We have replaced it with an exciting new e-learning module for health professionals that covers all 3 conditions.
This interactive module, 'Screening for Down's, Edwards' and Patau's syndromes', focuses on supporting women to make the screening decision that is right for them.
It has 10 units to help health professionals to:
discuss the conditions screening is offered for
discuss the performance, limitations and results of the test
support women throughout the process of personalised informed choice, being screened, getting results and any next steps
support women who decide not to have screening
improve women's experiences of screening
We recommend that all health professionals involved in offering screening for these 3 conditions should complete the resource every 24 months.
Developing the new resource
We actively sought the views of health professionals involved in offering screening for the 3 conditions before developing the resource, to make sure it reflects what people want and need to know.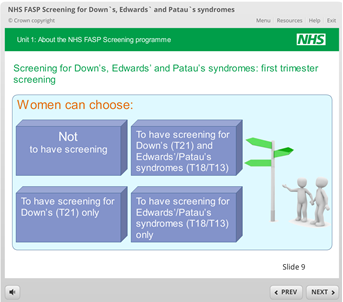 The content, activities and questions in the resource will help health professionals to support women in making informed decisions about screening. The resource features interviews with a variety of experts and healthcare professionals, and follows the journeys of 3 women with different stories and experiences.
We listened when people said they may not be able to complete the resource in one sitting, so users can complete the units separately over a period of 24 months. Users can download a certificate after completing the whole resource or download a progress report so they can see which units they have completed and when. This activity can be included as part of continuing professional development (CPD) and midwifery revalidation evidence.
The resource was piloted by a variety of health professionals to make sure it meets the needs of people at different stages of their careers and professional groups.
Positive feedback from the pilot included the following quotes:
I really enjoyed doing this e-learning resource and learned a lot. As a midwife in infectious diseases there was a lot in this field that I really needed updating on so it will be a valuable learning tool for all midwives and students as well – Margaret Costello, infectious diseases specialist midwife
… particularly nice videos and explanations of the really difficult elements like NIPT, twins and pseudo risk – Alex Davidson, QA advisor, Midlands and East
I thought your layout/design was excellent, loved the buttons and very easy to navigate, bearing in mind that I am so bad with tech stuff – Christine Rose, co-founder and trustee,  Support Organisation For Trisomy 13/18 (SOFT UK)
The new e-learning module can found on Health Education England's e-learning for Healthcare website.  Details on how to register are available here.
For more information, email PHE.screeninghelpdesk@nhs.net.
PHE Screening blogs
PHE Screening BLOGs provide up to date news from all NHS screening programmes – replacing our previously published newsletters.
You can register to receive updates direct to your inbox, so there's no need to keep checking for new blogs.