We aim to ensure NHS screening programmes are equally accessible to everyone who is eligible for testing.
To support this aim we have produced translated versions of many of our most widely used public information leaflets.
These translations are available for local screening services to download from GOV.UK and print off as requested.
Newly available translated leaflets include: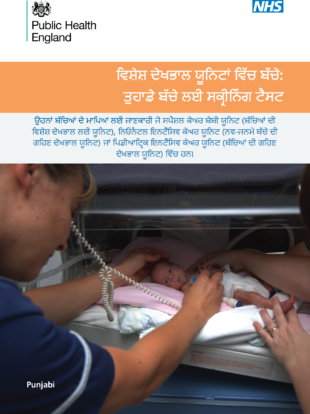 The first leaflet explains some important differences in the way we carry out newborn screening tests for babies in special care baby units, neonatal intensive care units or paediatric intensive care units.
The second leaflet explains what happens for babies referred from newborn hearing screening at their first visit to an audiology clinic, including the tests involved and possible outcomes.
Both leaflets are available in English and 10 other languages – Arabic, Bengali, Chinese, French, Polish, Portuguese, Punjabi, Romanian, Somali and Urdu. These are the most common languages requested nationally by services.
Local services that have a specific need for a different language would need to organise translation services locally.
Downloading and printing from GOV.UK
Use the following steps to print out one of the translated A5 leaflets from GOV.UK.
Open the leaflet in Adobe Acrobat.
Go to print.
Select the 'booklet' option.
This will print the pages in the correct order so they can be folded.
PHE Screening blogs
PHE Screening BLOGs provide up to date news from all NHS screening programmes – replacing our previously published newsletters.
You can register to receive updates direct to your inbox, so there's no need to keep checking for new blogs.