Every year, we, the NHS Sickle Cell and Thalassaemia (SCT) Screening Programme, publish a data report, which evaluates the performance of the programme.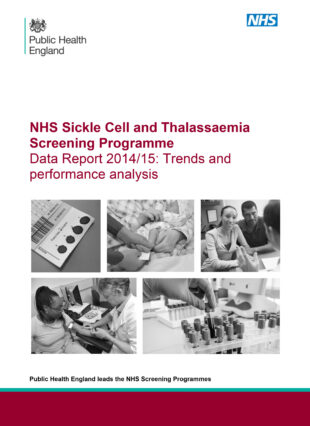 Our latest data report, 2014 to 2015, has just been published.
This publication brings together data collected from sickle cell and thalassaemia screening laboratories.
It includes an overview of national screening figures and analysis of:
antenatal screening data
prenatal diagnostic testing data
newborn screening data
key performance indicators
For those of you who may not get the chance to read the report in full, here are some of the key findings for 2014 to 2015:
approximately 710,000 women (down from 731,000 in 2013 to 2014) received antenatal screening for sickle cell disease and thalassaemia conditions, of which 2% were identified as screen positive, the same proportion as the previous year
there were 408 prenatal diagnostic (PND) tests performed, up from 353 in 2013 to 2014, representing half the number of couples identified in antenatal screening as having the highest chance of a positive result
just over 661,000 newborn samples were screened (a similar number to the previous year), of which 278 (1 in 2,379) were identified with significant conditions and approximately 9,000 (1 in 74) were identified as carriers
completion of the family origin questionnaire (FOQ) continued to improve in high prevalence areas and 94% of samples nationally had a completed FOQ, the same as the previous year
reported uptake of testing of the baby's father was at 60%, down from 64%
nearly half of antenatal screening was performed by 10 weeks gestation nationally, the same as 2013 to 2014
prenatal diagnostic (PND) data showed 10% fewer PND tests being performed by 12 weeks and 6 days compared to the previous year, and an increase by the same proportion in those tested in the 13th or 14th week of pregnancy
For the first time, we also looked at the processes in newborn screening. The data indicated that 99% of screen positive babies had their initial clinical referral by 8 weeks of age, suggesting that the programme standards for effective follow-up of infants with positive screening results are both realistic and achievable.
Approximately 86% of screen positive babies were reported to have had their first visit to a paediatrician at a specialist health team or local health team by 90 days.
If this blog has piqued your interest and you'd like to read the data report in full, you can find it, alongside our previous years' reports, on GOV.UK 
PHE Screening blogs
PHE Screening blogs provide up to date news from all NHS screening programmes – replacing our previously published newsletters.
You can register to receive updates direct to your inbox, so there's no need to keep checking for new blogs.