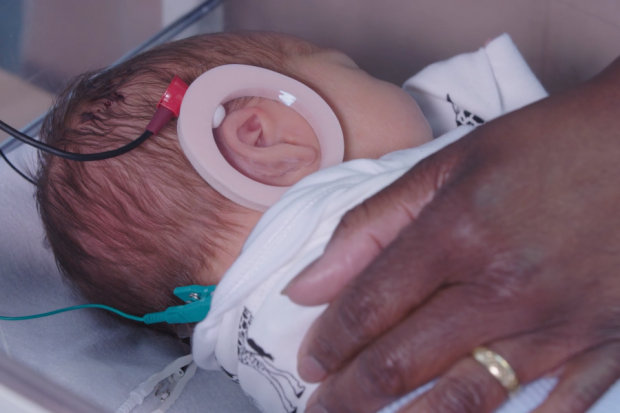 It is important that new hearing screeners working in the NHS Newborn Hearing Screening Programme (NHSP) gain the required knowledge and skills to deliver a quality service. One way this happens is via our NHSP e-learning module, which is available on the e-Learning for Healthcare website.
The e-learning module has undergone a review and changes have been made to make sure it is up to date, fit for purpose and aligned with the health screener diploma (HSD). The new version supports established hearing screeners and local managers to enhance their knowledge and skills. The new and improved module will go live on 1 December 2020.
Talking to services
To make sure the new e-learning module meets the user needs, we ran 3 focus groups. These involved local managers, hospital, community and midwifery support worker screeners. The aims of the groups were to:
explore ways of making it even better
find out how we could improve learner satisfaction
understand the needs of established screeners
identify where it could be aligned with the HSD
The focus groups were positive and constructive. There was clear support for an update.
To capture a greater number of views, we also developed an online survey, which was completed by 241 NHSP team members.
People told us that they wanted the information in the revised module to be clear and concise and presented in bite-sized chunks. To improve user engagement, they wanted more diagrams, images and videos of parent and practitioner experiences.
The video content includes the animation below of the automated otoacoustic emission (AOAE) screening test.
Making changes
We acted on your feedback and used Julie Tucker's and my practical clinical knowledge of NHSP to make sure the result was fit for purpose. To make sure we had delivered what was requested, we went back to the original focus groups and asked them to evaluate the revised version. We were delighted that 93% rated it as excellent. In addition:
100% found working through and navigating it easy or very easy
73% to 93% rated the content quality and amount of detail as excellent
100% rated the way we'd presented the information, films and animations as excellent or good
100% felt it significantly supported new screeners
87% think it will support established screeners by enhancing their clinical practice
Comments
Here are a selection of the comments we received.
One NHSP local manager told us:
I really enjoyed this more interactive module. It will benefit both new and experienced screeners in their continuing professional development and support those completing the HSD.
An audiologist was also happy about the links with the HSD:
The new version is a significant improvement. There are lots of really useful videos and animations. The units are much more in line with diploma requirements, which is great.
Ease of navigation made for an improved experience for this hospital screener:
The updated e-learning is excellent. It is so much easier to navigate and is much more user friendly without large text boxes to scroll through and read. It is much more interactive and links to the diploma with reflection ideas and suggestions. It will be excellent for screeners who are studying for the diploma.
Another hospital screener told us:
Overall, it is very clear and informative. I love the design/layout and presentation and the way it walks you through the module. It is so thorough and a huge improvement.
A quality assurance colleague said:
I feel that the new resource is fantastic and everybody working in ANNB SQAS should complete it.
What you need to do
Any screening team member currently undertaking the existing NHSP e-learning module must complete the entire module by 30 November 2020 as this module will not be available after that date.
After the new module goes live on 1 December 2020, all established screeners and local managers are expected to complete the 7 units of the module by 1 July 2021.
Thereafter, each year screening teams should complete unit 7, NHSP knowledge update, plus at least 1 or 2 other units as agreed with their local manager, to meet their own or the team's learning needs. Health visitors and registered nurses must repeat NHSP e-learning every 2 years.
To make sure unit 7 remains up to date, it will be revised again in 2022. We hope that you enjoy the new module.
PHE Screening blog
The PHE Screening blog provides up to date news from all NHS screening programmes. You can register to receive updates direct to your inbox, so there's no need to keep checking for new blogs. If you have any questions about this blog article, or about population screening in England, please contact the PHE screening helpdesk.