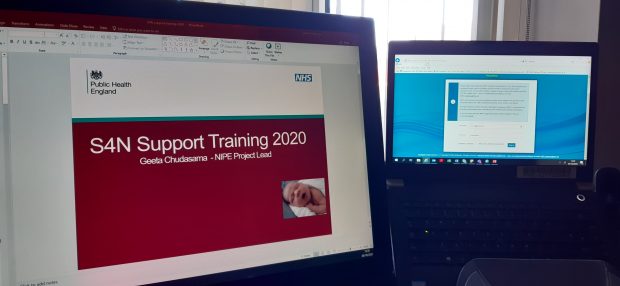 Most trusts in England (98.5%) use the SMaRT 4 NIPE (S4N) IT system to record results of newborn infant physical examinations (NIPE). It's really important the system is used consistently across the country to track babies across the whole of the screening pathway.
I held 5 online sessions between August and September for NIPE leads and the admin users who oversee the failsafe functionality of the system.
At least 164 participants joined the sessions. Some people were brave enough to have their cameras on and I could see several people in some rooms.
Thankfully, technology did not let us down and the sessions worked well. We had more engagement with these online sessions than we have had in the past with in-person events – proof that there are benefits to these new ways of working.
Session topics
The topics covered were:
access and use of the S4N training site
available resources
reminder of NIPE standards and key performance indicators (KPIs)
common errors with recording the examination
what referral outcomes should be recorded and how to record
available pre-defined searches
building bespoke searches
use of transfer lists
use of senior clinician review
when to set an 'overall outcome status'
Feedback
I received lots of positive feedback about the course.
Screening co-ordinator:
Thank you very much Geeta – we use a lot of the NIPE system in the way you suggested, but I have certainly learnt a couple of new things too!
Advanced neonatal nurse practitioner:
Thank you for the S4N training today, it was very useful.
Antenatal and newborn screening coordinator:
The session was extremely useful and a great refresher.
Future sessions
If you have not been able to attend any of the sessions, I plan to do one final 'mop up' session on Friday 23 October from 12 to 2pm. You can join the meeting on Microsoft Teams and there is no need to book.
Please note the meeting is aimed at admin users of the system only.
In future we plan to do 4 sessions per year – dates and joining instructions will be widely circulated.
PHE Screening blog
The PHE Screening blog provides up to date news from all NHS screening programmes. You can register to receive updates direct to your inbox, so there's no need to keep checking for new blogs. If you have any questions about this blog article, or about population screening in England, please contact the PHE screening helpdesk.