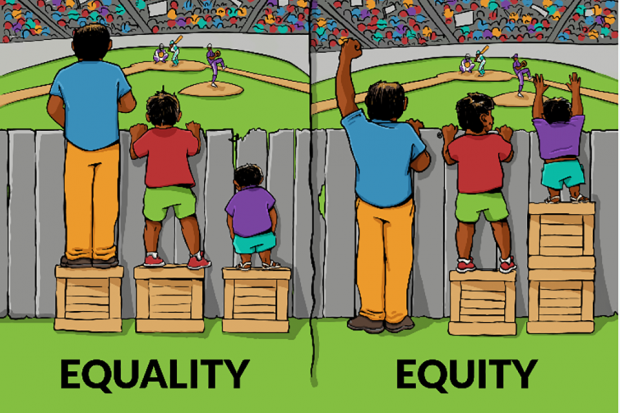 Identifying and addressing health inequalities is a legal duty for all NHS screening services.
To address inequalities, we should distribute resources fairly in relation to need, not necessarily equally, as shown in the illustration above.
We can use health equity audits (HEAs) to identify health inequalities between different population groups.
HEAs examine the distribution of:
determinants of health (factors that shape conditions in which people are born, grow, live, work and age)
access to relevant health services
related health outcomes
We are very pleased to announce the publication of the NHS population screening HEA guide for screening providers and commissioners.
Using the guide
The screening HEA guide supports screening services to conduct high-quality HEAs in a timely manner and with limited resources. We hope it will be a valuable resource that helps NHS screening services fulfil their legal duties and ensure equitable access throughout the screening pathway.
HEAs help identify groups less likely to participate in screening. They can be used to improve informed participation and reduce barriers to screening, ensuring everyone has the same opportunity to access screening relevant to their needs.
The new publication includes links to other useful documents and datasets on screening services as well as examples of HEAs relevant to screening.
Watch this space
Services will in future be able to use the screening HEA guide alongside the wider PHE Health Equity Assessment Tool (HEAT), which is due to be published in the autumn. The PHE HEAT will consist of a series of questions to help assess health inequalities and identify actions that can be taken to reduce them.
Training sessions in the use of the PHE HEAT have taken place in collaboration with screening and immunisation teams in the North and South East.
Further training is planned for a range of stakeholders, including screening staff.
Share your good practice examples
We are keen to capture examples of applying HEAs in your area of work so we can share them with colleagues.
If you are already using one or plan to do so in the near future, please get in touch.
For further information regarding the new HEA for screening providers and commissioners please contact the PHE screening helpdesk.
PHE Screening blog
The PHE Screening blog provides up to date news from all NHS screening programmes. You can register to receive updates direct to your inbox, so there's no need to keep checking for new blogs. If you have any questions about this blog article, or about population screening in England, please contact the PHE screening helpdesk.