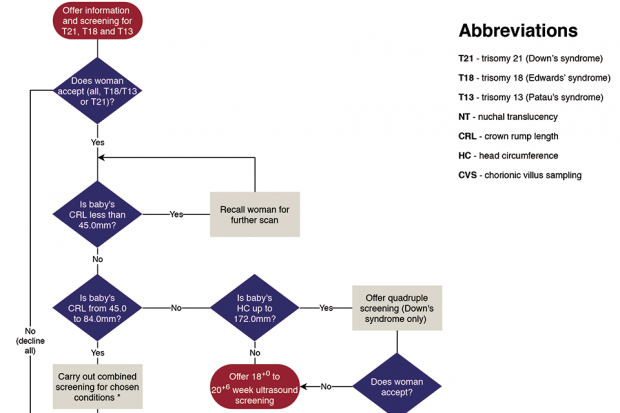 By law, all published information relating to public sector bodies must meet accessibility standards.
This is to make sure as many people as possible can access and use the information, including people with sight loss, dyslexia and other cognitive disabilities, those with motor disabilities and people who are colour blind.
Accessibility means more than just putting information online. It means making the content and design clear and simple enough so most people can use it without needing to adapt it, while supporting those who need it in a different format.
Consistent accessible format for flowcharts
As part of PHE Screening's work to support the NHS Fetal Anomaly Screening Programme, we have now published updated accessible pathways for:
The pathways include both a flowchart illustration and a text alternative that can be used with a screen reader by people with sight loss. We have tried to make both versions as easy to understand as possible by using a clear, concise, consistent format and plain English.
The new flowchart illustrations use:
red lozenges for the start and end points
grey rectangles for actions
blue diamonds for decision points/questions
The messages, steps and processes within both pathways are exactly the same as before. However, the updated accessible versions should be much easier to use and follow, both for health professionals and women who face decisions on screening and follow-up tests.
Please note that you may find the flowcharts do not display properly in some versions of Internet Explorer. If you have a problem we recommend trying a different web browser instead.
We will be applying the same principles to updating the national screening pathways for all the other NHS Screening Programmes over the coming months. We will keep you informed of progress through this blog.
PHE Screening blog
The PHE Screening blog provides up to date news from all NHS screening programmes. You can register to receive updates direct to your inbox, so there's no need to keep checking for new blogs. If you have any questions about this blog article, or about population screening in England, please contact the PHE screening helpdesk.