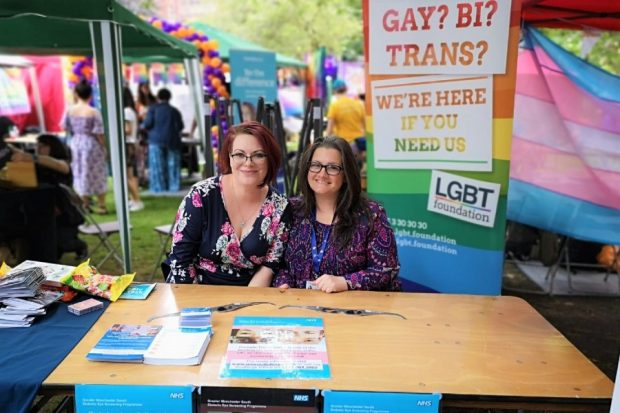 A recent blog from the LGBT Foundation discussed some of the specific health inequalities that the LGBT+ community experience. It also talked about how they can support services to try and overcome these imbalances.
As the Diabetic Eye Screening Programme (DESP) provider for Greater Manchester South, we have a large LGBT+ community within our patient base. And from our experiences, we understand some of the issues these groups may have when meeting with healthcare services.
As a programme, we want to ensure that we are meeting the needs of everyone. We are also working hard towards increasing uptake in a community that often delays medical treatment until it's more urgent.
Increasing engagement through LGBT events
In June 2019, we contacted the LGBT Foundation. We began our journey towards achieving their Pride in Practice standard, along with looking into ways to increase engagement.
In Manchester, there are several widely attended Pride events, including the annual trans Pride event, Sparkle, held in July. We attended the Health Zone at Sparkle and took the opportunity to chat and advise people of the importance of attending their eye screening if diabetic.
For this event, our marketing manager helped to create some tailored promotional materials using the LGBT rainbow and trans Pride flag. These carried the specific message that we wanted to get across during the event that 'diabetes doesn't discriminate'.
Although these were created specifically for this event, we have started to use them as part of our normal engagement pack. We now use them at all events to ensure we are showing that our service is inclusive. It has been great to see the reaction from people who recognise its importance.
Pride in Practice
In October, a member of the Pride in Practice team within the LGBT Foundation joined our MDT meeting. They gave an excellent educational talk on why the scheme exists, who it supports and how we can provide a better service to our LGBT+ service users.
We were also given support on what we would need to do to gain our first award. This included ensuring that all staff sign up for equality and diversity training, and that we regularly review our own policies to ensure they meet the required standards.
All our clinics have promotional material stating that we support LGBT+ people to attend screening, and that our staff are given annual training on this. We also display the LGBT Foundation poster with their support line telephone number.
We are happy to report that we have already been given a bronze award for the work we have done. As the first DESP to do this, we were delighted to achieve that first step. But this is just the start, and the hard work is now underway to getting gold.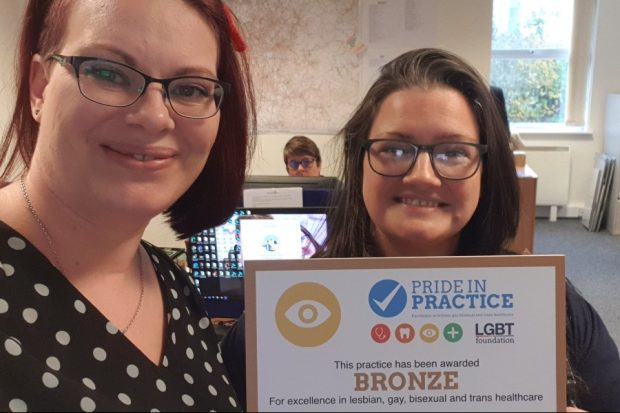 Next stop: gold award
To achieve the next award, we will need to show that we are carrying out sexual orientation, and trans status, monitoring. Doing this will allow us to ensure that we are working with the LGBT+ community.
It will also provide useful data to work through the health inequalities that members of the community experience. As you can imagine, this is quite a big step to implement. Although it is supported by the NHS England Sexual Orientation Monitoring Information Standard, we have met some resistance to putting this in place.
The main concern raised has been if it is appropriate, as part of an eye screening appointment, to ask about an individual's sexuality or gender status.
It would be desirable to have one consistent national approach to the questions asked and how the answers are utilised. Consideration will be given to potential approaches to this by the national Diabetic Eye Screening Programme Board.
This is obviously a sensitive subject and we are looking at setting processes in place that all our DESPs within InHealth Intelligence, not just Greater Manchester South, can use.
Small changes, more inclusivity
We are changing the current gender questions that feature on our equality monitoring questionnaire so that they are more inclusive. There is the option to select male (including trans male), female (including trans female) or non-binary.
We also have an additional question asking if the gender is the same as to what was assigned at birth.
Within our area, we are lucky to have many GP practices already participating to achieve the Pride in Practice gold award. Many are already doing sexual orientation monitoring, so we aim to connect with these practices and learn from their initial experiences. Looking ahead, we hope to develop an agreed pathway together.
Throughout this journey, we have received incredible support from the LGBT Foundation. We hope to continue working with them and all the professionals involved, to improve the uptake of diabetic eye screening for all LGBT+ people in our area.
PHE Screening blog
The PHE Screening blog provides up to date news from all NHS screening programmes. You can register to receive updates direct to your inbox, so there's no need to keep checking for new blogs. If you have any questions about this blog article, or about population screening in England, please contact the PHE screening helpdesk.