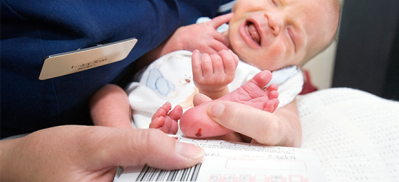 Newborn blood spot screening involves taking a blood sample to find out if a baby has any of 9 rare but serious health conditions.
Sometimes a second blood spot sample is needed (a repeat) and the reason for this will be explained to parents. The fact that a second sample is needed can sometimes lead parents to worry something is wrong, so conversations need to be handled sensitively.
To help with these conversations, the screening programme has guidance to help blood spot sample takers talk to parents about repeat tests as well as a leaflet to give to parents.
Updated information
The parent leaflet (which we've just updated) is useful to midwives because it covers the key information parents will need to know about a repeat test for their baby.
Midwives sometimes tell us they get anxious talking to parents about a repeat test. The parent leaflet (which can be printed off) provides a structure that can be used during this discussion, covering all the key information and the kind of language to use.
It is really important to tell parents clearly why their baby needs a repeat sample. In some cases parents may not agree to a repeat, which obviously means they won't get a completed screening result.
We've also updated the professional guidance which talks in much greater detail about repeat blood spots. This can be useful if parents ask questions which aren't covered in the parent leaflet.
In talking to parents, it can be useful to use both leaflets. We hope you find the revised information useful.
Learn more
Completing our 3 newborn blood spot e-learning modules will help you gain confidence discussing screening and repeat samples. All newborn blood spot e-learning modules are available on Health Education England's e-LfH website.
Newborn blood spot conditions
The recently updated first module covers the 9 conditions screened for, informed choice and includes an interview with parents of a child affected by one of the conditions.
Newborn blood spot card
The second module covers recent changes to the newborn blood spot card and gives information about residual blood spots (dried blood spots that are 'left over' after screening).
Blood spot quality matters
The final module talks about how to take good quality samples and features an interview with a midwife about how she reduced her avoidable repeat rate
PHE Screening blogs
PHE Screening blogs provide up to date news from all NHS screening programmes. You can register to receive updates direct to your inbox, so there's no need to keep checking for new blogs.