Every baby is offered newborn blood spot screening, usually when they are 5 days old. A special card is used for collecting the blood spot sample.
We began a review of the current blood spot card last year and after lots of hard work new cards will start to be used from October 2018.
Unexpired old cards should be used up before starting with the new cards, meaning there will be a period of transition where some areas are using the new card and some the old card.
What's different about the new card
It's bigger, white and has one detachable flimsy (the sheet of paper which copies the information written on the card to the sheet below).
Only one version of the card will be used across England and Northern Ireland.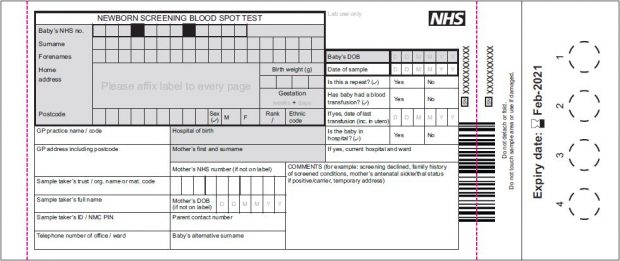 The new design makes it easier to complete, trace the family and contact the sample taker if there is a problem with the card or if a repeat is needed.
There are new fields to be aware of, including:
a new grey shaded area with information on a baby's barcoded NHS number label
sample taker's trust/organisation name or maternity code
sample taker's ID number/Nursing and Midwifery Council PIN number
telephone number of office/ward
a new space next to the NHS logo for laboratories to use
We have removed 2 fields from the new card. These are the boxes to fill in the:
box to fill in the primary care trust
box to fill in baby's surname on filter paper
Why we changed the card
Since 2015, real progress has been made with improving blood spot quality and reducing the number of avoidable repeat samples needed.
In England there were still about 20,000 avoidable repeat blood spot samples between 1 April 2016 and 31 March 2017, as set out in our Data collection and performance analysis report 2016 to 2017.
Over a quarter of avoidable repeats were due to an expired blood spot card or a missing or inaccurate baby's NHS number, date of birth or sample date.
We have changed the card to cut down on these kinds of common avoidable repeats.
All's well that ENDS well
Using this well-known phrase will help you remember to avoid making 4 common mistakes:
E - Expiry date (do check that the card hasn't expired!)
N - baby's NHS number
D - baby's Date of birth
S - Sample date
Reducing avoidable repeats will:
prevent delays in treating babies with serious conditions
prevent worry for parents and distress to babies
save the NHS approximately £100 per repeat (up to £20 million per year)
Learn more
The newborn blood spot card module, which explains about the new card and what happens to blood spots after screening, has been updated. An interactive card shows how to complete all the new fields correctly and why they are important.
The newborn blood spot conditions module has also been updated. It merges the previous e-learning unit and explains the 9 rare but serious conditions which newborn blood spot screening covers.
PHE Screening blogs
PHE Screening blog articles provide up to date news from all NHS screening programmes. You can register to receive updates direct to your inbox, so there's no need to keep checking for new blogs.