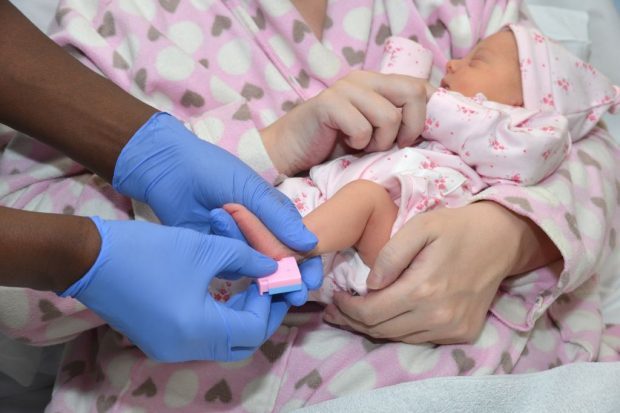 We've updated our movers in guidance for offering newborn blood spot (NBS) screening to babies that move into England.
The guidance is changing because 3 out of the 4 UK countries now offer NBS screening for all 9 conditions recommended by the UK National Screening Committee (UK NSC):
sickle cell disease (SCD)
cystic fibrosis (CF – only offered up to 8 weeks of age)
congenital hypothyroidism (CHT)
phenylketonuria (PKU)
medium-chain acyl-CoA dehydrogenase deficiency (MCADD)
maple syrup urine disease (MSUD)
isovaleric acidaemia (IVA)
glutaric aciduria type 1 (GA1)
homocystinuria (pyridoxine unresponsive) (HCU)
The previous guidance stated that screening should not be offered for MSUD, IVA, GA1 and HCU if the baby had documented results for the other 5 conditions.
Updated guidance – what you need to know
The new guidance applies to all babies resident in England, whether they were born in England, another UK country or abroad.
The guidance explains that:
all babies under a year of age should have documented NBS results (or declines) for all 9 conditions
only results documented in English are accepted (this includes translations)
if a baby under a year of age doesn't have all the results, screening should be offered for the untested conditions – however, this is only if the blood spot sample can be taken before they reach a year of age
if a sample is taken, the laboratory will complete all screening processes (it doesn't matter if the sample reaches the laboratory after the baby's first birthday or a repeat is needed)
all 9 conclusive blood spot results should be recorded on the child health information system within 21 days of a health care professional finding out that the child has moved into England (please refer to key performance indicator NB4 for more information)
The new guidance contains more details on finding results, offering screening and taking the sample. There is also a section on providing advice to parents.
The implementation date for the guidance is 1 April 2018.
NHS numbers for movers in from abroad
Someone moving into the country may not have an NHS number. The usual way to obtain an NHS number,  if not allocated at birth, is via a GP.
For movers-in with children, their first contact with the NHS may be with a health visitor, who would advise them to register with a GP and in the process get an NHS number.
However, some movers-in will have other priorities and delay getting a GP. To ensure an NHS number is provided quickly to allow timely screening, the local child health information system (CHIS) can provide an NHS number on the basis of the information provided by the health visitor.
Whichever method is used to get an NHS number, those who are already disadvantaged should not suffer further and there must be systems in place that are fit for purpose.
PHE Screening blogs
PHE Screening blogs provide up to date news from all NHS screening programmes. You can register to receive updates direct to your inbox, so there's no need to keep checking for new blogs.