Earlier this year in the blog we promised that a user guide for the newborn blood spot failsafe solution (NBSFS) was on its way.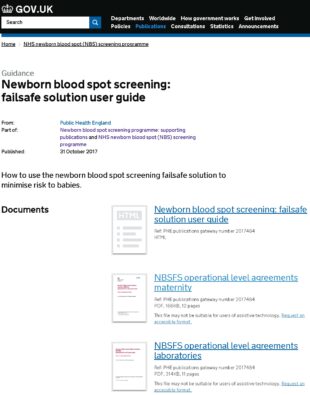 It's here now and you can find it on GOV.UK.
The NBSFS is a quick and easy way of identifying babies who may have missed NBS screening for 9 rare but serious conditions.
For the new user guide (pictured right), we've brought together everything in one place that NBSFS users in laboratories, maternity units and child health record departments might need.
The user guide includes documents you will already know and use as well as some new resources.
The guide includes:
the record query form (RQF) and new user access forms which can be downloaded – no need to get them from the NBSFS helpdesk
training and quick reference guides to help new users get started with the NBSFS
a list of NBSFS sites and a handy map to help when transferring records
a troubleshooting guide for common problems
operational level agreements (OLAs) which describe how stakeholders should use the NBSFS
background information on how the NBSFS works
useful contacts, resources and links
Please check out the user guide for yourself. If you want to let us know what you think about it, or about the NBSFS generally, you'll even find a NBSFS user feedback form there.
There is a quick and convenient link to the user guide direct from the NBSFS. You just need to click the 'useful info' button on the tracking page.
If you have any questions, please contact NBSFS project lead Julie Wilcox at julie.wilcox2@nhs.net.
PHE Screening blog
PHE Screening BLOG articles provide up to date news from all NHS screening programmes. You can register to receive updates direct to your inbox, so there's no need to keep checking for new blog articles.