I manage the newborn hearing screening team at East Lancashire NHS Trust and recently 4 of my team returned to the classroom.
In April 2017, the NHS Newborn Hearing Screening Programme implemented the level 3 Diploma for Health Screeners qualification as a requirement for all new non-professionally regulated staff.
Here in East Lancashire we were lucky the trust recognised the importance of developing its staff and provided the funding for existing qualified screeners to complete the diploma to further their personal professional development.
Four screeners embraced this opportunity. They are Gail Pickstone, Linda Whiteoak, Abida Ashraf and Rubena Patel, who all have 13 years' experience as hearing screeners and felt the diploma would enhance their roles and benefit the service.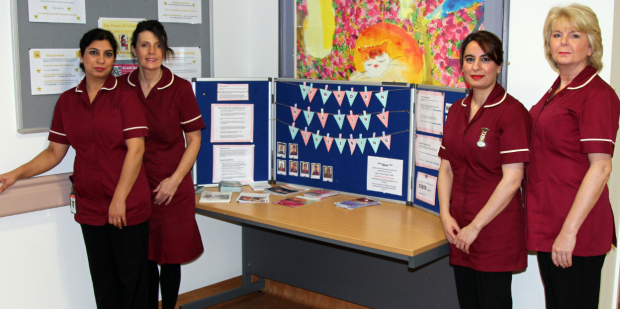 Gail, Linda, Abida and Rubena are 4 months into the diploma and are working closely with Birmingham Sandwell Hospital, the awarding centre for the qualification. They have completed 7 units so far, completed an observed structured clinical examination (OSCE) and had a practical observation assessment in the workplace, including oral and written questions from Rachel Hair, diploma assessor.  All 4 hope to complete the diploma successfully by the end of 2017.
We have recently recruited 2 new hearing screeners who will also start the diploma. Having 4 experienced screeners undertaking the qualification will help support the new staff. Each will be mentored by the qualified screeners, who have all said how much they are enjoying their studies.
Gail Pickstone said:
When it was first suggested we might get the opportunity to do the diploma, the 4 of us were very interested and quite eager to begin. Having done no academic studying of any kind since leaving school I was more than a little daunted at the prospect. Then the workbooks were assigned to us and we realised just how much work we had to do. Our next task has just been assigned to us and the subject is very important – safeguarding. We are looking forward to this one as recently we all attended a level 3 safeguarding course in preparation. Recently we had to be observed performing our day-to-day tasks by an 'expert witness' (Laura, our manager).  As I've been in the role for 13 years it was strange how nerve-wracking that was too! But even more so was being shadowed over 2 days last week by our diploma assessor Rachel Hair.
Linda Whiteoak said:
As we are already a well established team of close colleagues it came naturally to support one another through this process.  We have had fun and laughter as well as frustration and worry. But the satisfaction when an assignment is finally accepted is immense.
Rubena Patel said:
It has been a great chance for the team and us as individuals to start something new which will help us carry out our role better and with more understanding. This level 3 diploma could help pave the way for a possible career change in the future. Either way it's a challenge for sure but a very satisfying one.
Abida Ashraf said:
Completing some of the diploma work has been a challenge at times as I have a busy home life too. But we have all supported each other at times of stress and Rachel, our assessor, has been very helpful and understanding. Personally, I have learned a great deal from researching and reflecting on my experiences and feel very proud of myself and my colleagues with the work we have submitted.
PHE Screening blog
PHE Screening BLOG articles provide up to date news from all NHS screening programmes. You can register to receive updates direct to your inbox, so there's no need to keep checking for new blog articles.