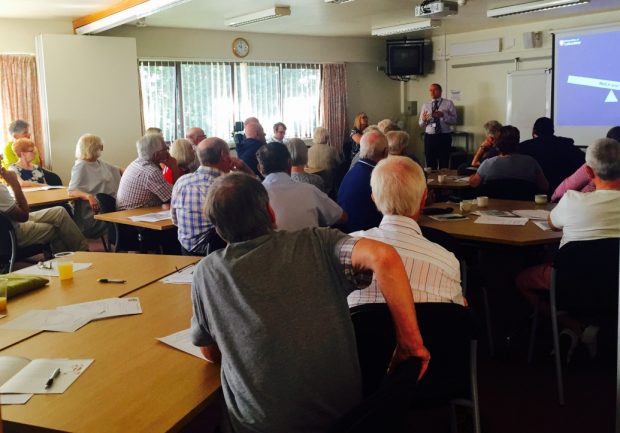 Providing information and support to surveillance patients is one of the most important responsibilities of local abdominal aortic aneurysm (AAA) screening services.Men who have a small (3.0 to 4.4cm wide) or medium (4.5 to 5.4cm) aneurysm detected by screening are put on surveillance. We screen them at regular intervals to check how quickly their aneurysms are growing. We also give them health and lifestyle advice plus information about possible treatment should their aneurysms grow past the 5.5cm referral threshold.
Being on surveillance can be a cause of anxiety for some men who are worried about what is sometimes described as a 'ticking timebomb' in their bodies. Several local AAA screening services hold patient information days for their surveillance patients, both to reassure and inform them.
The Leicestershire service recently held its third annual patient information day for around 50 patients and carers at the Glenfield Hospital in Leicester.
Presenters included a consultant vascular surgeon, vascular specialist nurse, specialist physiotherapist and AAA screening nurse. They provided information about the referral process (once aneurysms grow to 5.5cm or above), the surgical repair options and maximising the health of patients before surgery. They also discussed current research and patients were asked for their input and ideas.
The patients also had the chance to meet each other and share experiences. It was a very informal session and patients were encouraged to join in discussions and ask questions. Feedback on the day was very positive.
Patients who have attended previous events – and have then been referred and had surgery – have said that the information prepared them well.
Last month, the Bristol, Bath and Weston AAA screening service held its fifth such annual information day for surveillance patients. This year, it also extended the invitation to surveillance patients at Southmead Hospital whose aneurysms had been detected outside screening, for example because of symptoms or during an investigation for another condition. This meant some younger men and some women attended in addition to the screening cohort of men aged 65 and over.
The response was excellent with just under 100 people attending the meeting at Keynsham, near Bristol. Clinical director Mahesh Pai gave a presentation on the referral process, surgery options, post-operative health and recovery. There were also presentations on getting fit for surgery, health and lifestyle advice and the process of self-referring for screening. A patient who had undergone repair surgery rounded off the evening by giving a patient's perspective of coping with surgery and recovery before all the patients had a chance to meet staff and each other and share experiences.
As with the Leciester event, the feedback from attendees was very positive. As a result, the Bristol, Bath and Weston service plans next year to invite surveillance patients from all 3 vascular studies units within its network.
Colleagues who would like to find out more about organising similar patient information sessions can contact Steve Seaton or Shona Marriage, coordinators of the Bristol, Bath and Weston screening service, on 0117 414 8611 or steve.seaton@nbt.nhs.uk or shona.marriage@nbt.nhs.uk.
PHE Screening blogs
PHE Screening BLOGs provide up to date news from all NHS screening programmes – replacing our previously published newsletters.
You can register to receive updates direct to your inbox, so there's no need to keep checking for new blogs.