I'm Ruth Stubbs, the recently appointed national programme manager for the NHS Cervical Screening Programme (CSP).  As you know from previous blogs, changes within PHE have seen all 11 NHS screening programmes brought together into a single screening division. The cervical, breast and bowel cancer screening programmes are now part of the division's young person and adult (YPA) programmes team that includes the diabetic eye and abdominal aortic aneurysm screening programmes.
I've taken on the national programme manager role at an interesting and exciting time. Although cervical screening is well established, it faces a number of challenges, including IT and data systems that date back to 1988 when the programme was first introduced.
Cervical screening is no stranger to change and there are more significant changes to come. We're currently awaiting the outcome of the UK National Screening Committee (UK NSC) consultation on human papillomavirus (HPV) primary screening and hope to have news on this soon.  You can read more about the piloting of HPV primary screening in the NHS Screening Programmes in England 2014 to 2015 report. Further information is available on GOV.UK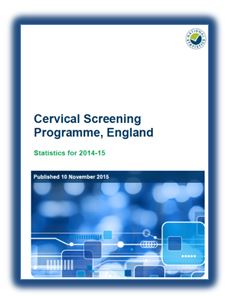 The national statistical report, produced by our colleagues at the Health and Social Care Information Centre (HSCIC), details key statistics from across the cervical screening pathway. It's a valuable report that demonstrates the programme's strengths as well as areas for improvement. Pritpal Rayatt from the HSCIC will write a blog soon relating to the statistical report that summarises essential data from our screening programme.
What is evident from both the above reports is that there has been a decline in coverage which continues to be a key concern in the programme. We're interested in finding out how we can get women to take up their screening invitation, improve coverage and reduce the number of women who develop cervical cancer.
One of the main reasons for women declining screening is fear and embarrassment. That's why we're keen to explore evidence regarding HPV self-sampling techniques  and we'll continue to look into this in 2016.
The reports also underlines all the hard work that goes into delivering cervical screening. I'd like to take this opportunity to thank our wider team for all their efforts and I look forward to continuing to work with you in 2016 to produce the high quality screening that women deserve.
PHE Screening blog
The PHE Screening blog provides up to date news from all NHS screening programmes – replacing our previously published newsletters. You can register to receive updates direct to your inbox, so there's no need to keep checking for new blogs.