NHS blue adorned the walls of the International Centre in Telford, as this year's Royal College of Midwives (RCM) annual conference set up camp in Shropshire. The ever popular two-day event attracted more than 1,000 professionals on 10-11 November.
Leaving the autumnal chill outside, we – the antenatal and newborn screening programmes team – donned our hi-vis vests and got to work setting out our stall.
There were ladders…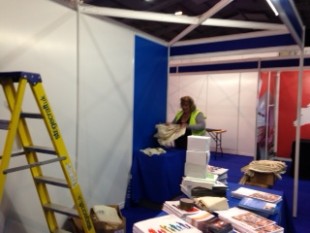 There was sticky tape...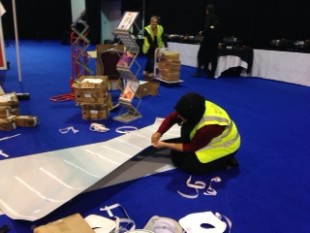 But finally we had a stall brimming with colourful information and enthusiastic faces…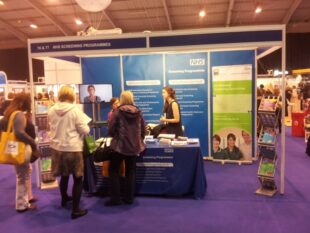 Our stand proved very popular as students and professionals thronged to find out more about the six NHS antenatal and newborn screening programmes. Information about e-learning and how to sign up to the PHE screening blog were the hottest topics for discussion.
We also handed out information about:
updated blood spot sampling guidelines
new antenatal and newborn screening e-learning resources
roll out of screening for Edwards' syndrome (T18) and Patau's syndrome (T13)
roll out of screening for Down's syndrome in women with twin pregnancies, as part of the second trimester quadruple test
the additional view of the fetal heart (3VT), now required to be taken as part of the mid-pregnancy fetal anomaly scan
roll out of the NIPE SMART IT system
the revised IDPS standards
As the November sun sank below the horizon, the spotlight was on Jo Harcombe and Wendy Ring, who delivered a bite-sized version of the hugely popular screening masterclass. The interactive masterclass was received by a room packed with eager delegates, who were all awarded a personal certificate of attendance.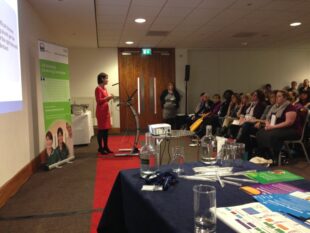 A huge thank you to all those who made the interactive masterclass such a huge success, and I think many would agree that it was a highlight of the conference.
For those of you who didn't make the conference, or those of you who simply want more information, all of our resources are available on GOV.UK, the screening CPD site or via our blogs and tweets.
PHE Screening blog
The PHE Screening blog provides up to date news from all NHS screening programmes – replacing our previously published newsletters. You can register to receive updates direct to your inbox, so there's no need to keep checking for new blogs.