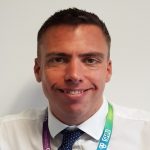 Martin Pope
After several years working in management consultancy, Martin joined the NHS Midlands and Lancashire Commissioning Support Unit (CSU) 6 years ago.
He was initially its Head of Mobilisation and was responsible for service improvement projects, as well as mobilising new services and contracts with customers.
More recently he has been the Service Director responsible for delivery of all the CSU's services across the East Midlands.
Martin is passionate about ensuring we provide the highest quality service to patients and the populations we serve.
The admin service that supports the cervical screening programme is moving from Primary Care Support England (PCSE) to the NHS.