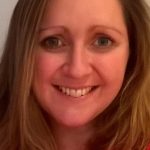 Catherine Magee
Catherine Magee is a clinical project lead within the national NHS Newborn Hearing Screening Team, currently seconded out of her role as manager of the local newborn hearing screening service across Rochdale and Oldham, Greater Manchester. She is a qualified audiologist and continues in a part-time clinical role as an enhanced paediatric audiologist in Rochdale and Oldham, working specifically in aetiology and diagnostic testing of babies who refer from the hearing screen.
The 100th candidate successfully completed the external competency assessment (ECA) in September 2021.
The NHS Newborn Hearing Screening Programme has played a major role in identifying moderate to profound hearing loss in newborn babies in England and has reached another major milestone, having now screened 11 million babies.
The programme .
Related content and links
The PHE Screening team
Public Health England (PHE) existed to protect and improve the nation's health and wellbeing, and reduce health inequalities. It closed on 30 September 2021 and this blog is no longer updated.
Find out more about the implications for health screening in our Changes ahead for the national screening system blog article.
If you want to stay in touch with screening evidence and policy news, you can subscribe to the UK National Screening Committee blog.
Follow us on social media