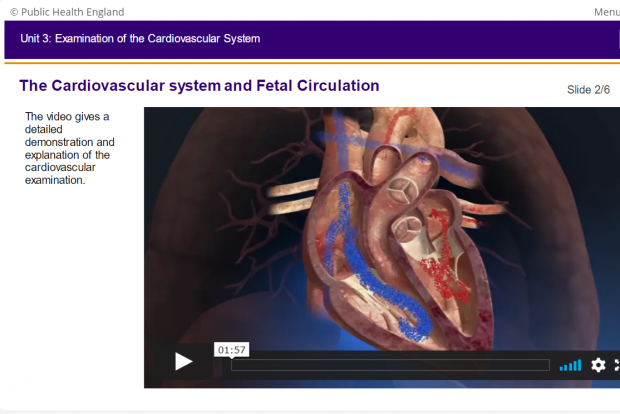 The NHS Newborn and Infant Physical Examination (NIPE) Screening Programme offers screening for newborn babies within 72 hours of birth, and then again at the infant screening examination at 6 to 8 weeks of age. The eyes, heart, hips and testes (in males) are all screened at the 2 examinations.
The NIPE e-learning module provides an overview of the NHS NIPE screening pathway. The updated module now has 7 units, including:
6 units covering all aspects of the screening pathway, including one for each of the 4 NIPE screening elements (eyes, hearts, hips and testes)
one assessment unit
It helps healthcare professionals develop their knowledge of the NIPE screening elements and pathways and the NIPE programmes standards, which supports their clinical practice. We recommend the module is completed by NIPE practitioners annually.
A popular resource
The module is particularly relevant for midwives, student midwives, junior doctors and paediatricians who undertake the NIPE newborn screening examination. It is also relevant for GPs and those eligible to undertake the NIPE infant screening examination in primary care and will be of interest to others who are involved in the NIPE newborn or infant screening pathways. It has been available for 8 years and has been very popular and brings positive feedback.
The updated e-learning is more interactive and includes new images to put the content into context. A new video explains the cardiovascular system in a fetus and the changes to the circulation once the baby is born. A new unit called 'further information for NIPE practitioners' covers issues around NIPE incidents, continuing professional development and education.
The e-learning resource has been updated alongside the NIPE programme handbook clinical guidance and the NIPE programme standards.
Users who were already undertaking the previous version of the e-learning can find a message explaining the change on the e-LfH platform.
PHE Screening blog
The PHE Screening blog provides up to date news from all NHS screening programmes. You can register to receive updates direct to your inbox, so there's no need to keep checking for new blogs. If you have any questions about this blog article, or about population screening in England, please contact the PHE screening helpdesk.