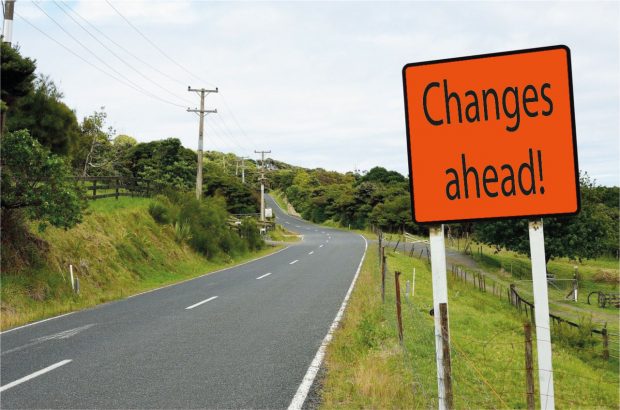 A while back I wrote a blog article on how the UK National Screening Committee (UK NSC) evidence team has started trialling a new approach called evidence mapping to make the evidence review process more efficient. Now, I'd like to turn the spotlight onto another important aspect of the evidence review process: programme modifications.
You might think that once a national screening programme is put in place, that's it. Job done. In reality, this is not the case.
Screening programmes are not static, and they are subject to change over time. For example:
the interval between screening invitations can be expanded or reduced
the age that screening starts at can change
a new screening test can be introduced to replace the current one
Making a proposal
A proposal to modify a screening programme can be submitted at any point.
The UK NSC evidence team does an initial assessment to verify that the submission is within the remit of the UK NSC. For example, they would look at whether it constitutes a big change to an existing screening programme and, if so, whether it should be taken into further consideration. On the basis of this initial assessment, the Director of Programmes and the Chair of the UK NSC decide if the proposal should go to the next stage.
This step consists of an external assessment of the submission. A review team, which can be an academic unit or a public health consultancy organisation, is appointed after a competitive tendering process. The assessment that the review team carries out may or may not identify the need to explore the proposal in more detail, for example via a rapid or systematic review or a modelling exercise. The results of the assessment are then considered at the first possible UK NSC meeting.
These steps are summarised in the flowchart below.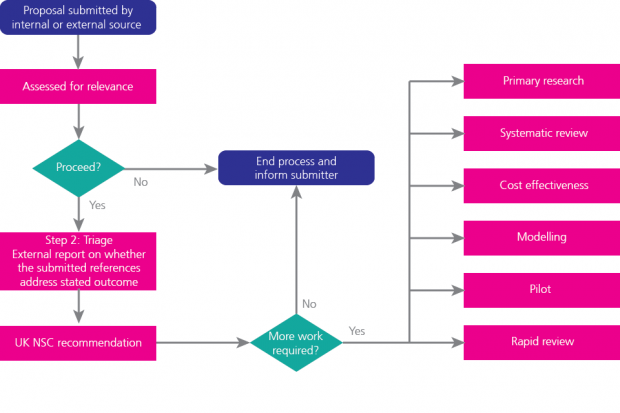 Recent suggestions
In recent years, programme modifications have become a more common feature of our work. To give you an idea: since 2015, we have completed the evaluation of 17 programme modification proposals.
For example, one of these resulted in the UK NSC recommending that faecal immunochemical testing (FIT) should replace the guaiac faecal occult blood test (gFOBt) as the primary screening test for bowel cancer screening in the UK for 60 to 74-year olds. This decision came about in 2015 because new evidence emerged showing that FIT was more acceptable to people, it was cost effective and it was better at correctly identifying people with a higher chance of having the condition.
In 2018, the UK NSC also recommended that the bowel screening programme in the UK move to using FIT from the age of 50.
We are currently working on 13 programme modification proposals.
One of these is about the use of artificial intelligence (AI) in screening. Incorporating AI into screening programmes is a rapidly developing and fascinating area. If you are a supplier looking to develop an AI product to be used in screening, you might want to check out our useful information and interim statement on AI in breast screening.
In regard to AI, we:
are currently carrying out 2 reviews of AI in relation to breast cancer and diabetic eye screening
are progressing 3 methodology pieces on AI, which will review the literature and develop evidence requirements and standards for test datasets and validation
have set up a time-limited, output-focused task group to provide advice to the UK NSC on the use of AI in screening
When it comes to programme modifications, it is worth mentioning that the UK NSC also keeps an eye on new developments via its horizon scanning function. This includes, for example, regular updates on the latest articles published in peer-reviewed journals, as well as updates via links with screening programmes, academic units, charities and stakeholder advisory groups.
As ever, remember that, when it comes to conditions for which the current recommendation is not to offer population screening, stakeholders can also alert us at any point to new evidence which is published in between regular updates. And don't forget the annual call for topics that runs every year between early September and early December. This gives the public a regular opportunity to suggest new topics for possible consideration.
PHE Screening blogs
PHE Screening blogs provide up to date news from all NHS screening programmes. You can register to receive updates direct to your inbox, so there's no need to keep checking for new blogs. If you have any questions about this blog article, or about population screening in England, please contact the PHE screening helpdesk.