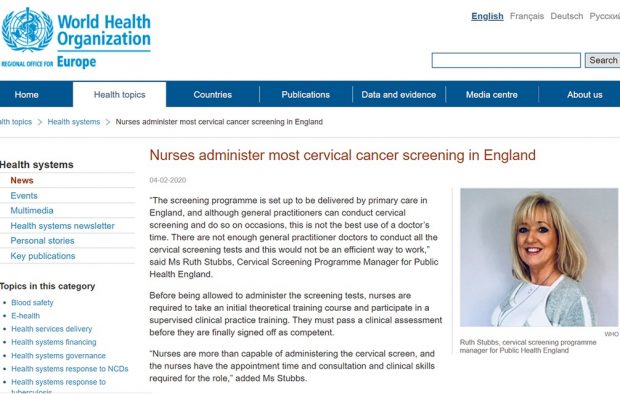 The new year brought in a new decade and 2020 also heralded the year of the nurse and the midwife.
To mark the occasion, NHS Cervical Screening Programme manager Ruth Stubbs spoke to the World Health Organization (WHO) about the importance of nurses in providing an efficient screening service to women in England.
Why nurses screen
In some countries screening is only performed by doctors. The article on the WHO website highlights the important role nurses have in screening programmes.
The English screening programme is known for its high quality and standards. Nurses have a vital role in delivering and maintaining those standards. Many women also say they feel at ease with nurses and feel more comfortable discussing their needs or their anxieties around screening.
In the article, Ruth reflects on her nursing career to date and her experience has been extensive. Her journey has taken her from providing end of life care for women with cervical cancer when working as a district nurse, to working in primary care providing screening, to becoming the national screening programme manager.
Looking back, she says:
Nurses are more than capable of administering the cervical screen, and the nurses have the appointment time and consultation and clinical skills required for the role.

I think the experience that a nursing training gives you never really leaves you. Understanding the needs of women is central to our work.
The article summarises the history of cervical screening in England and its importance in preventing cervical cancer by detecting abnormalities of the cervix.
It also explains how WHO now aims to improve the provision of regular cervical screening and timely vaccination against HPV throughout Europe.
PHE Screening blog
The PHE Screening blog provides up to date news from all NHS screening programmes. You can register to receive updates direct to your inbox, so there's no need to keep checking for new blogs. If you have any questions about this blog article, or about population screening in England, please contact the PHE screening helpdesk.