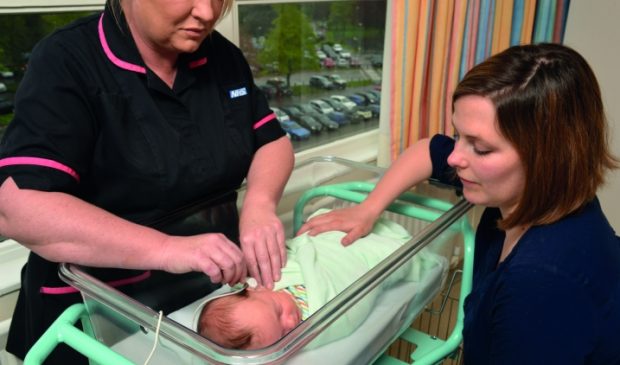 The newborn hearing screening programme (NHSP) has published updated guidance for babies with 2 health conditions: confirmed congenital cytomegalovirus (cCMV) and programmable ventriculo-peritoneal shunt.
This follows a number of queries to the PHE Screening helpdesk about the 2 conditions that highlighted the need for us to provide clear guidance to NHSP providers on the management of these babies.
Having sought opinions from a range of experts, including the British Society of Audiology (BSA), we have agreed the following:
Babies with confirmed congenital cytomegalovirus (cCMV) or programmable ventriculo-peritoneal shunts should be excluded from screening and referred directly to audiology.
Prompt referral will enable early assessment, appropriate follow-up and monitoring for these babies.
Babies with cCMV
Cytomegalovirus (CMV) is a common virus that can be associated with hearing loss if contracted in-utero (called congenital CMV or cCMV).
Babies with cCMV are at high risk of permanent sensorineural deafness, affecting one or both ears. This is caused by damage to the hair cells within the cochlea (the part of the inner ear involved in hearing) and/or the hearing nerve.
For those children whose deafness is caused by cCMV, more than half will develop progressive or late onset hearing loss.
Identification and treatment within 4 weeks of birth can help stop hearing loss deterioration. This is why we recommend that children with cCMV should be followed up and monitored by audiology.
Babies with cCMV who are found to have a hearing loss may be offered anti-viral treatment. Early hearing assessment in audiology is related to the short window of opportunity for this anti-viral treatment.
Babies with programmable shunts
These babies should not be screened as there is a risk of the screening equipment affecting the shunt.
Programmable ventriculo-peritoneal (PVP) shunts are surgically implanted devices in the brain fitted to babies (and some adults) as a treatment for hydrocephalus to drain excess cerebrospinal fluid (CSF) from the brain to another part of the body.
PVP shunts have a magnetic valve, placed just under the skin behind the ear, for adjustment by an external control magnet.
The magnet in the shunt can be affected by devices used to measure hearing which can cause a potential risk to the baby.
It is recommended that all babies with PVP shunts are referred to audiology for assessment instead of being offered newborn hearing screening.
Advice for audiology departments will be available from the BSA.
To set out how these babies should be managed within local NHSP services, we have updated the:
Guidance main points
The guidance advises that screening teams should:
liaise with paediatric and audiology services to ensure prompt referral to audiology
treat these babies as screen referrals and continue to log them as such on the NHSP national IT system using the screening outcome of 'incomplete-screening contraindicated'
expedite and monitor the referral to audiology in conjunction with the medical team
record the screen outcome for these babies in the NHSP national IT system
For audiology teams, the BSA will be producing a position statement on testing patients with programmable VP shunts and guidance for management of babies with cCMV within their guidelines for the early audiological assessment and management of babies referred from the NHSP, which is currently being revised.
Contact the BSA for further information.
Babies now excluded from screening
With the 2 new additions, there are now 4 groups of babies who are excluded from the screening programme.
Microtia/external ear canal atresia
This exclusion is because these babies will always have a degree of hearing loss.
Neonatal bacterial meningitis or meningococcal septicaemia (confirmed or strongly suspected)
This exclusion is made because of the very high risk of sensorineural hearing loss (SNHL). The urgency for post-meningitis babies is because of the risk of ossification of the cochlea and because urgent cochlear implant referral may be required.
Programmable ventriculo-peritoneal shunts in place
This exclusion is due to the risk of magnetic fields arising from audiological stimulus transducers affecting the shunt.
Confirmed cCMV
This exclusion is because the risk of hearing loss is very high.
Prompt referral to audiology for these babies will prevent any delay in an early assessment and enable appropriate follow up and monitoring.
More information can be found in the NHSP surveillance and audiological referral guidelines.
PHE Screening blogs
PHE Screening blogs provide up to date news from all NHS screening programmes. You can register to receive updates direct to your inbox, so there's no need to keep checking for new blogs. If you have any questions about this blog article, or about population screening in England, please contact the PHE screening helpdesk.